Retiring ex-Labour ministers tight-lipped on pension top-ups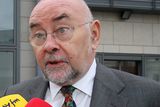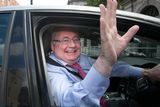 RETIRING ex-Labour ministers are refusing to say if they will comply with a request from Taoiseach Enda Kenny to donate pension top-ups back to the State.
The pension row is becoming increasingly embarrassing for Mr Kenny and Tanaiste Joan Burton, who yesterday backed the Taoiseach's call to retired office holders to hand back the top-up they are due to receive from the taxpayer.
However, despite the public outcry over the controversial top-ups, former ministers Pat Rabbitte and Ruairi Quinn refused to say if they will gift back a portion of their substantial pension pots once they quit.
Mr Rabbitte – a former communications minister who will benefit from an annual pension of around €70,000 – said the Taoiseach's request "seems reasonable", but would not say if he will take a top-up.
"I am not on a pension. The Taoiseach's request seems reasonable to me and that's all I have to say," he said.
When pushed on whether  he will take the increased pension payment, he added: "I am a serving TD and I'm not really going there."
Similarly, Mr Quinn, who is a former education and finance minister, refused to say if he will abide by the Taoiseach's request once his political career ends after the current Dail dissolves.
"I'm still in the Dail and I  will be there until the end of the current government. I will consider these things when the time comes. I am not a retired politician yet," Mr Quinn said.
Mr Quinn is entitled to an annual pension of almost €70,000 a year.
Ms Burton weighed in behind the Taoiseach yesterday and insisted former ministers should consider giving back some of their pension as an acknowledgement of the suffering the rest of the country endured during the recession.
Mr Kenny was forced to address concerns among his party members at last week's Fine Gael parliamentary party meeting.
The heated meeting saw prominent TDs insist the party was going to suffer at the polls from the public backlash over the top-ups, which are around €1,600 in some cases.
In response, Mr Kenny called on former office holders to consider Ireland's "fragile" economic recovery and forgo the pension increases, which were agreed by Public Expenditure Minister Brendan Howlin in the Lansdowne Road Agreement.
A Labour spokesman said Mr Rabbitte and Mr Quinn were part of the Cabinet that reduced ministerial pensions an abolished severance payments.
"In stark contrast, most of the FF cabinets did nothing but consistently increase their pay," a source added.