Residents' anger at filthy condition of historic house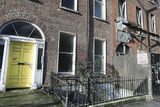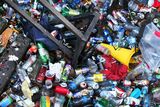 This is the disgusting litter-strewn site in plain view of visitors and residents in one of Dublin's premier Georgian streets.
Dozens of dirty drink cans and discarded bottles have been allowed to accumulate for long periods outside a building on the historic terrace on Harcourt Street.
Residents of the street have complained about the ongoing neglect of the site on the popular tourist street which is causing "a terrible smell".
Shocking
Cans and bottles have been accumulating at the building which has remained unoccupied for some time. The rubbish can be seen both at ground level and at basement level.
A woman who lives in the area told the Herald she complained to Dublin City Council about the problem. She was informed the litter problem on the property was the responsibility of the owner and the council had undertaken to contact the owner.
"It's shocking ... Nobody is taking responsibility for this and, as a result, we have to pay for other people's carelessness and lack of civic-mindedness," she said.
She believed that patrons of a number of entertainment venues in the locality have been using the property as a dump site for their empty alcohol bottles and drink cans.
While trash discarded in front of other properties in the street is cleaned up by occupiers on a daily basis, the front of the unoccupied property has been getting steadily worse in recent months, she said.
"I'm from Northern Italy and have been living in Harcourt Street for six months. I have to pass this problem every day. I cannot understand the mentality of the Irish people who allow this problem to continue.
"Why can't they use the litter bins. There is a litter bin just 10 metres away," she said.
"I come for a place in Italy which is close to the border with Switzerland where every place is super clean … I find Dublin to be full of dirt and rubbish.
Dirty
"Dublin is a dirty city. If all the rubbish was removed, Dublin would be so much better," she added.
She believed that the city council needed to spend more resources tackling litter problems like the Harcourt Street 'eyesore.'
Local city councillors Kieran Binchy and Dermot Lacey said the problem of litter at the location needed to be addressed as a matter of urgency.
aokeeffe@herald.ie