Republic of Ireland star Derrick Williams looking forward to Hammers date
Hammers encounter big chance for Derrick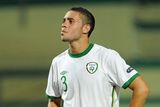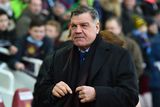 WATERFORD lad Derrick Williams and his team-mates at Bristol City will get a rare taste of life under the spotlight this weekend.
It's the FA Cup, an in-form West Ham United are coming to town on Sunday and, seeing as Sam Allardyce is a lot more interested in where the Hammers finish in the Premier League this season than a possible FA Cup run, an upset and progress for Bristol City, a side on form in League One, could be on the cards.
His club have big ambitions for the season - they are one game away from an appearance at Wembley (albeit in the Johnstone's Paints Trophy final) and are shaping up nicely in the race for promotion to the Championship.
And while a tussle with the Premier League stars of West Ham is a nice way to spend a Sunday afternoon, Williams does not want this to be his only taste of the big time.
He's played (briefly) in the Premier League, with Aston Villa, and has done well at underage international level, but progressing to the stage where he can win Martin O'Neill's attention is a big goal.
"We want to do well in the Cup, and maybe with home advantage we can catch out West Ham," Williams told The Herald.
"We've had a lot of interest in the club this week as we're playing a Premier League team and people here think we have a chance. We have good momentum behind us and maybe that can carry us though in the Cup game.
"But hopefully we can get promoted and I will get noticed even more. I think you need to be playing at a level higher than League One to get attention in terms of the national team and things like that.
"You don't see many League One players get picked for international football so if I am to get close to the international squad, I would need to be in the Championship at least," added Williams, one of two Irish players in Steve Cotterill's City side, along with Galway lad Greg Cunningham.
AMBITION
"Hopefully we can get promoted this season and maybe then, next season, the Ireland manager can take a look at me. It is a massive ambition of mine, to play international football.
"And hopefully it could happen, I know we have a lot of midfielders with Ireland now but not too many defenders, especially left backs. I am comfortable playing at left back, I played a lot there for Bristol City last season so I could move in there for Ireland if I was picked."
Williams, who was born in Germany (his American-born father was on duty with the US military there) but raised in Waterford, was once part of the large Irish contingent at Aston Villa. He even made it into the first team in the Premier League, making one appearance, against QPR, back in December 2012, but moved on.
"Moving away was a good move for me, my approach was that if I was good enough I would make it back to the Premier League some day. It was a case of taking a step back in the hope of making two steps forward later on," says Williams, a key player in the Irish U19 side which reached the semi-finals of the European Championships in Romania in 2011.
"When I was at Villa it was a great set-up but it was just a bad time for a player in my position. I think I had five or six left-sided defenders in front of me so it was never really going to happen for me at Villa. I did get one game in the Premier League and that was a great experience, no one can take that away from me."
He's managed to get that since his move: 48 appearances last season, 32 this term.
With just one defeat in 12, City are on form but meeting a Premier League side is different from those weekly battles with Fleetwood Town and Scunthorpe United.
"We have had a few chats about playing West Ham and done our homework so our manager will have us ready," he says. "It will take a lot for us to get the better of them, they are a good Premier League side, it will take us to have a good day and them to have an off-day.
"We are up against a great Premier League side, full of internationals but we are at home so of course we have a chance.
"Some people have said it will suit us if they rest players for the game but I hope they put out their strongest XI, you want to test yourself against the best to see how good you are, how far away you are from that standard," he added.