Rapist who attacked a woman on a dart free to take a Luas into town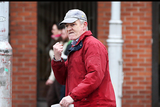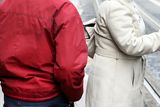 This is convicted rapist Paul Moore, freely mingling with unaware members of the public in Dublin despite having six jail sentences for rape and sexual attack behind him.
He is currently on bail and due for sentencing again this week after pleading guilty to yet another assault.
A judge once said Moore had "a predisposition to violence towards women, which manifests as rape and sexual assault".
Moore (51) is out on bail until Thursday, when he will be sentenced for groping a passenger on a Dart train. In recent days he has been spotted using the Luas.
Despite pleading guilty at Dublin Circuit Criminal Court, he was granted bail as his case manager was out of the jurisdiction.
Alerted
Judge Melanie Greally said the court should be alerted if any matters of concern arose.
The Herald has seen him leave his Mountjoy Square home in the mornings and walk both the north and south city, mingling with people who are oblivious to his identity and his crimes.
Last Tuesday, he left his apartment and walked to the city centre, entering the Paddy Power betting shop on the corner of Middle Abbey Street and Liffey Street for a brief period. He then walked the short distance to the southbound Luas platform and waited for the next tram.
In the most recent case against him, for which he will be sentenced this week, Moore pleaded guilty at Dublin Circuit Criminal Court to sexually assaulting a woman on a Dart on August 28, 2014.
Evidence was heard that he sat near the woman and started making small talk. He then moved to the seat beside her and commented on her clothes, before touching her breasts and pulling at her trousers.
At the time, gardai circulated CCTV of the incident but no one recognised Moore. However, when a fresh attempt to identify him was made in 2016, Moore was recognised and arrested. He accepted it was him on the CCTV but said he could not remember the incident.
Last week, Moore got off the Luas at the Four Courts and walked the short distance to the offices of the Probation Service near Smithfield.
Jailed
He then went into a shop near Ellis Quay before walking back up the quays, crossing to the southside and then back towards the city.
A previous trial heard how Moore stopped one woman close to his home at Gardiner Street on January 21, 2015, and a second at St Mary's Place North, about 500 metres from his door, on May 8, 2015.
In both cases he engaged the women in conversation before sexually assaulting them. In 2015, he was jailed for 15 months for these attacks.
In that case, Judge Martin Nolan commented on Moore's "predisposition to violence towards women, which manifests as rape and sexual assault".
His other offences include raping a musician in 2001, for which he received 10 years, and raping another woman in 1995, for which he got seven years.
Speaking in general terms and not specifically about the Moore case, Rape Crisis Centre CEO Noeline Blackwell said the whole justice system is very difficult for rape victims.
"We need a justice system where the sentencing process goes through quickly, not where a failure to match up two diaries delays this," she said.