Pupils give up confirmation money to send aid for orphans in Moldova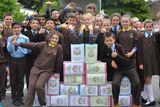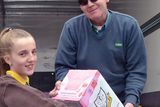 Big-hearted pupils from St Clare's primary school in Harolds Cross have donated their confirmation money to orphans in Moldova.
Alex Grogan, one of the sixth class pupils who recently made their confirmation, came up with the idea after taking inspiration from her granddad.
An Post worker Paul O'Neill (pictured inset with Alex) volunteers as a driver with the Communication Workers Union Humanitarian Aid convoy.
The class from St Clare's teamed up with students from the CBS on James Street and used their funds to purchase boxes of baby products and other gifts for the orphanage.