Protests slow water meter installations for three days in D8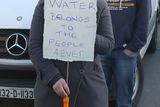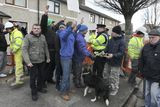 WORKERS only managed to install two meters in the Maryland, Dublin 8 area of the capital this week as locals resisted installation works for a third successive day.
Contractors installing the meters on behalf of Irish Waterbegan to arrive on Loreto Road shortly after 7am yesterday.
However, works were repeatedly disrupted and were eventually called off for the morning.
By noon, around 40 people had gathered on the road to protest, as Irish Water workers sat in their vans unable to carry out work while five gardai kept an eye on proceedings.
Local resident May Radford explained why she was out demonstrating.
"I'm here against the water meters. I won't pay for them because I don't have the money," she told the Herald.
One resident who gave his name as Charlie said that he understands the role gardai have during the installation of works, and that there is no animosity between them and the protesters.
"I feel bad for the gardai, because it's the Government that are putting them into this position," he said.
"I'd imagine they don't want metres installed as much as the next person, but they're being put into this position and taking the heat from the public," he added.
Scuffle
A fresh attempt was then made to install water meters in the area in the afternoon, leading to a minor scuffle between some of the protesters and gardai.
The workers then began to pack up their tools and called it a day at 4pm.
Extra gardai were drafted in as protesters delayed their departure with a slow march.
Protesters said that just two meters were installed in the area in recent days. Irish Water did not respond to a request for comment last night.
hnews@herald.ie