President sketches not 'bullying', says Oliver Callan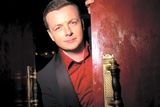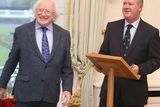 SATIRIST Oliver Callan has said he would encourage President Michael D Higgins to "scold" a close friend who has complained about how his lampooning of the head of state had crossed the line from humour to "toxic bullying".
Callan said that in a week when satire was a huge talking point around the world in light of the Charlie Hebdo massacre in Paris, it was "petty" for the Abbot of Glenstal Abbey in Co Limerick to criticise him for just mentioning President Higgins' height in his sketches.
The creator of the hugely popular Callan's Kicks on RTE went head to head with Abbot Mark Patrick Hederman on Today with Sean O'Rourke over an opinion piece written by the abbot in the Sunday Independent.
In it he accuses RTE radio and television and the newspaper's LIFE magazine of bullying and harassing the president.
Mr Higgins has been a regular visitor to Glenstal Abbey since 1976 and spent time there reflecting following the election and his installation as president.
Abbot Hederman told Mr O'Rourke that he knew Mr Higgins (right) well, but said they had never discussed sketches he was portrayed in.
destructive
Abbot Hederman praised the "genius" of comedians like Oliver Callan and Mario Rosenstock, saying they had a "gift" that could be used for important or useful purposes but could also be destructive.
"I think it is destructive when you start making insinuations about people's sexuality or about their height, their colour or any other aspects of their personality they can do nothing about," he said.
The abbot said he was not suggesting the president was above reproach or parody, but that he was above "a certain kind of parody".
But Callan insisted he was not making any insinuations about the president's relationship with his executive assistant Kevin McCarthy.
Rather, he was raising the issue of cronyism that a special position that never existed before should have been created for Mr McCarthy who was Mr Higgins' driver during the presidential election campaign.
"If I thought the president was crying late at night because I'm making fun of his height I would not be doing it," he said.
hnews@herald.ie