'Poo the right thing', say €15k talking lampposts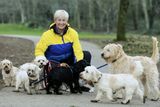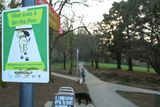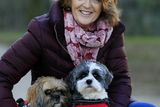 More than €15,000 has been spent on talking lampposts in South Dublin in an effort to encourage dog owners to clean up after their pet.
Walkers in Killiney Hill and four other parts of the capital may be bewildered to hear a male voice coming from an ordinary looking lamppost.
They play pre-recorded messages, encouraging people to clean up after their dog - and always carry waste bags.
Bemused
The motion sensor devices are being trialled in areas including Ballyogan, Marlay Park, Killiney Hill, Glenageary and Seapoint.
Dun Laoghaire-Rathdown County Council believes the lampposts could help cut dog dirt by more than 80pc.
The initiative was welcomed by bemused dog walkers in Killiney Hill yesterday afternoon.
Terry O'Reilly, from Shankill, told the Herald that she believes it will make a significant impact.
"I suppose anything that helps combat this problem can only be a good thing," she said.
"This is one of my all-time favourite places to walk my dog and it would be a shame if it was overrun by dog dirt.
"There are some chancers who pretend not to notice their dog going to the toilet and walk away leaving it behind for others to step on.
"Children are particularly at risk because the dog dirt could get in their eye and do some serious damage.
"Giving people a friendly reminder like this is something that could be very effective."
Jennanne Fennelly, from Billy's Excellent Adventures premium dog-walking and minding service, believes that there are people who will always need reminding to clean up after their pets.
"Killiney Hill is a lot cleaner now than it once was, but if the speakers can act as an extra encouragement for those who need reminding then I say it's worth the money," she said.
"Once dog fouling becomes a problem it can ruin even the most picturesque location, but thankfully it doesn't seem like the council are letting that happen."
A spokesperson from the council told the Herald that RiteView Solutions was recently contracted to install six audio device units within the local authority at the price of €15,940.80.
"The cost includes the lease of six audio technology units from RiteView Solutions Ltd for a period of 12 months. This cost includes installation, device maintenance, battery change and relocation expenses," the spokesperson said.
"The devices will be rotated throughout the county over the 12-month period."
Failing to clean up after your dog has fouled can result in an on-the-spot fine of €150 or a summary conviction to a fine of up to €4,000.
According to recent figures, no dog fouling fines were issued in Dublin City last year. No fines were issued in Dun Laoghaire-Rathdown either, and in South Dublin County Council, three dog fouling fines from January to November were issued to offenders.