Paul Hyland: 'A club in England could see a bad result for Martin O'Neill as a starting gun'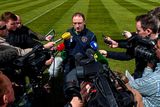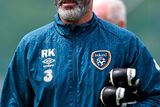 IF football administrators from any of the five associations contained in these islands ever mention the idea of reviving the 'Home Nations' annual series, with Ireland as an asterisk, they should be taken to a quiet room and kept there until they recant.
This may seem harsh, and almost certainly illegal, but it is necessary.
If Ireland's truly dull encounter with England served a useful purpose other than generating cash and allowing rusty players to sharpen up, it was to forever remove the thought that this kind of thing every year would be a good idea.
In two games against Northern Ireland and England in five days, not one goal. Add in the first leg of Ireland's double-header with Scotland back in November and the last time we played Wales (0-0 in Cardiff in 2013) you've got one in four games.
Was there a decent game among them? Not really. The in camera run against Northern Ireland cannot be judged but it was scoreless and that's not what paying customers like to see in friendly games.
The sting has gone out of old rivalries and what were once hot ticket events have been reduced to training runs, grafted on the end of a season to fill a gap and help with cashflow.
Roy Keane
There were many empty seats at the England game last Sunday, unimaginable even six or seven years ago when the FAI drew huge crowds to Croker. Austerity devastated that market and only a qualifier carries the required level of intensity for football fans these days.
Scotland will generate some passion but England was a chore - clearly, a very necessary one, though.
The substance underpinning much of the controversy surrounding FAI CEO John Delaney in the last week is the state of the association's finances.
Reading Garrett Kelleher in the Sunday Business Post, it is clear that the FAI were in trouble when Delaney came back from Sepp Blatter with a deal. Has that changed in the intervening period? Only the FAI Board know the full picture.
What is certain is that nobody in Abbostown would deny the importance of the right result against Scotland. Defeat leaves qualification in the hands of the tooth fairy and a calculator.
Defeat would also leave Martin O'Neill in a major dilemma. He has vowed to see his job through to the end and has plans to go to St Petersburg in late July for the World Cup draw.
But there is every likelihood that a club in England would view a bad result for O'Neill on Saturday as a starting gun.
With qualification a wispy hope rather an expectation, O'Neill could be forgiven if he chose to return to his true passion, club management, rather than kick tyres around the Ireland team until his contract is up.
To anyone watching O'Neill in his role since the start, it always seems as if that he doesn't really understand the rhythm of international football management, or if he does, he's not comfortable with it.
Beating Scotland would help a great deal. He has yet to feel the surge which comes down from the stands when Irish fans are in full cry and ready to believe in the manager and the players.
He got a taste of it on Sunday when Lansdowne Road rose to Jack Charlton. You had to be a stone not to feel your eyes water at the sight of a man so revered by so many.
All of this, of course, is in the realm of make belief and we have a few days to go before we get some answers.
But picture this scenario -Ireland may need a manager by July and Roy Keane is available. He's been very quiet this week, going about his business and smiling like a Buddha when we tried to drag him into the FIFA story. For once, the high beams are focused elsewhere and he must be chuckling to himself, given his relationship with the FAI in the past.
Even now, it is easy to see Keane as Ireland boss, if for no other reason than the box-office draw he supplies and if it's one thing Abbotstown need now its turnstiles spinning.
After the week we've had, when the impossible happened and Blatter agreed to go, there's the sense that anything could happen.
Republic of Ireland