Paschal Donohoe: Fines for cyclists can help make our roads safer for everybody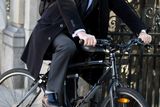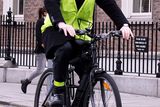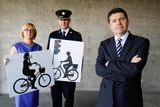 Paschal Donohue: Transport Minister
As a cyclist myself, I know well the benefits that accrue from using a bike - money and time saved and it's often a speedier way of getting from A to B.
We now have many more cyclists on our roads than ever before, with Dublin recently recording more than 10,000 cycling trips into the city for the first time.
There are 36 road-traffic offences that relate specifically to cyclists, but unfortunately a small number of people continue to break the law by ignoring red lights or cycling in a way that endangers themselves and others.
For this reason, I am bringing seven offences into the fixed charge notice (FCN or fines) system.
This is being done to promote safe cycling and to discourage dangerous cycling.
It is intended that the introduction of fixed charge notices for cyclists will increase awareness and reinforce the message that cyclists too have a responsibility to obey the rules of the road.
In a bid to encourage greater take up of cycling, a number of measures have been introduced by the Government. These include the further roll-out of the city bike-share schemes and greater investment in cycle lanes and greenways. It is important, however, that this growth and the increased safety risks are dealt with now and not later.
The FCN system has worked well in encouraging motorists to drive more safely. I am confident that as cyclists become increasingly aware of fines being issued, the same will apply to them. There are 36 road-traffic offences for cyclists and - as was the case in relation to motoring offences - I decided that it was not appropriate to introduce FCNs in all instances now for fear of causing confusion and diluting what is a strong message.
The offences chosen now are those identified as being best suited to encouraging good cycling practice.
Fines will be set at €40, which is the same cost as the lowest fixed charge for motorists. Contrary to some media reports, fines will not be 'on the spot', but will be issued in the same way as for motorists - through the post.
Direct
Issuing fines is a more immediate and direct way of encouraging compliance. With our courts as busy as they are, issuing a summons for not having a light on a bike or for cycling in a pedestrian zone may not always be considered the best use of resources.
The offence of cycling on the footpath, which many cite as a particular bugbear, is not being included in the FCN system at this time. This is in light of the impact it may have on young families cycling to school. On the other hand, the more general offence of cycling without reasonable consideration is included.
This will allow the gardai to deal immediately with those who are cycling in an aggressive or erratic way on a footpath or anywhere else that puts their own welfare, and that of others, at risk.
Paschal Donohoe is the Minister for Transport