'Opportunistic and desperate' - pub raiders target locked bars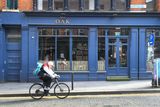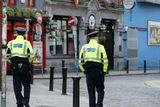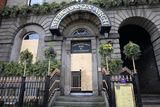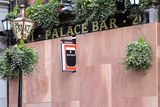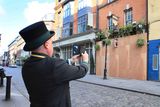 Four Dublin pubs suffered break-ins in the space of less than 48 hours after they were closed due to the coronavirus pandemic, the Herald can reveal.
The four city centre pubs were targeted by criminals on Thursday and Friday with sources saying it is expected that more pubs will be targeted nationwide in the coming days and weeks by "opportunistic and desperate burglars".
Some pub owners are so concerned about the situation that they have completely boarded up the front of their premises.
Pubs to have taken this decision include the well-known Palace Bar on Fleet Street and the Merchant's Arch pub on Wellington Quay.
Arrests
Following one of the pub burglaries in the capital, gardai from Pearse Street arrested three suspects after they allegedly raided the Oak Bar on Parliament Street in Temple Bar in the early hours of Thursday morning.
The incident happened at 5.45am and gardai yesterday confirmed details of the arrests.
"Two men, aged in their late 20s, and a woman, aged in her early 30s, entered the licensed premises and took a number of items.
"All three were apprehended by gardai on mobile patrol in the area," a garda spokeswoman told the Herald.
"They were arrested and taken to Pearse Street Garda Station where they were detained under Section 4 of the Criminal Justice Act, 1984," she added.
The suspects are expected to appear before court at a later date and our photo shows the damage caused to the door of the popular bar.
When contacted by the Herald, Donall O'Keeffe, chief executive of the Licensed Vintners Association, said that the LVA had been advising all its members on possible security precautions.
He explained that some pubs had boarded up their premises as some had "pretty unique shopfronts which are literally irreplaceable in some instances".
"In these unprecedented times we have two key threats and this is from break-ins and vandalism," he said.
Mr O'Keeffe also pointed out that "at this stage pubs are obviously de-stocked".
"Cash has been gone from the pubs since Monday and spirits and other high value items have also been removed," he went on to add.
Gardai across the country are paying particular attention to pubs that have had to close because of the coronavirus as part of their new policing plan.
The Vintners' Federation of Ireland has also provided its members with detailed security advice.
A spokesman told the Herald that in many cases suppliers have removed taps and kegs from pubs.
Meanwhile, gardai across the country have noticed a marked reduction in home burglaries over the past week and a massive increase in closed business premises being broken into.
"There has been a huge decline generally in home burglaries, not just in Dublin but across the country," a senior source told the Herald last night.
"Of course this type of crime is still happening but there has been a huge reduction in it," the source added.
Deterrent
Figures are not yet available but gardai believe that the massive decrease in home burglaries is due to the fact that hundreds of thousands of people are now constantly in their homes.
This contrasts with when homes were vacated by those attending work before the health crisis, and this provides "a major deterrent to most burglars".
However, the pandemic has also led to the closure of thousands of businesses, making them ideal targets for the burglary gangs.
Yesterday the Herald revealed that a suspected member of an international crime organisation was arrested shortly after midnight on Thursday as he and two other gang members attempted to break into an NCT Centre in Carlow town.
The 32-year-old Romanian national appeared before Carlow District Court yesterday where he admitted a burglary charge. He was convicted, fined €500 and ordered to leave the country.