O'Neill remains upbeat despite injuries
Problems mount but Irish boss stays smiling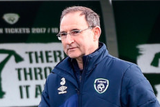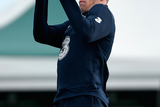 The absolute certainty that international football managers are never more than one blind turn away from a custard pie was nicely illustrated by Martin O'Neill's currently tricky circumstances.
He's been the soul of good humour and confidence since the end of autumn. Only good results and a fair wind will do that.
And just when he perhaps allowed himself to relax a tad and feel at ease with himself and the job he's been doing, fate runs through his squad with a flail ahead of the biggest home game of the campaign.
"This is the most lengthy injury list I've seen in my time as Ireland manager," he said, and yet he was still smiling, still upbeat.
It was an odd day out in Abbotstown. The sudden and tragic death of Ryan McBride coloured everyone's thoughts and had a very obvious impact on O'Neill.
Moved
Speaking about how James McClean has been coping with the incomprehensible reality of his close pal's passing, O'Neill himself became visibly moved.
"He's very upset, obviously, as he played with the lad. He's pretty devastated so we'll see what happens," said O'Neill, clearly contemplating the possibility that his star man of the campaign so far might not be emotionally fit to tog out against Wales.
This would be entirely understandable, although there is the sense that McClean's way would be to go out and play and dedicate the game to his friend's memory.
The bigger injury picture is depressing. Following Wes Hoolahan's withdrawal and with every new piece of bad news, Aiden McGeady's chances of starting rise exponentially.
Not just because O'Neill is running out of bodies in midfield. Even if he could call on suspended Robbie Brady, there would be a decent case to be made for McGeady to start against Wales. When asked if he thought Chris Coleman would be viewing McGeady as potential game changer in the same way we view Gareth Bale, O'Neill agreed.
"You would like to think the opposition manager would have respect for some of your players.
"I'm far from obsessed about it (Bale) because I always felt he would play in the game. Great players, you can make some plans for them and they can get themselves out of it.
"I just think you need to be on your guard. He's a very, very fine player, there is no question about that. He's been big for Wales for the last number of years.
"Really big, in terms of qualification and in the Euros. He will be hard to deal with it, there is no question about that. But deal with it we will have to."
With dwindling midfield resources, that will be no easy task.
"For instance, we miss Robbie Brady, because he has thrown the ball away. Robbie said that he hadn't known he had already picked up one yellow card! Well, you think that would be pretty foremost in your mind. There are only two. That was kind of daft but it would be nice if he was available because he is actually fit, so that is the irony of it all.
"There is no question that it presents a problem to us. We wouldn't have the strength in depth that other nations would have.
"But honestly, it doesn't matter. We'll field a side for the game, we'll get prepared and be ready for the game, absolutely ready for the match because the game is so important," claimed the Ireland boss.
Effort
"We will not be short of effort. We might lack a few other things - as you well know and as you all can see - but, honestly, they will put their heart and soul into the game on Friday night."
"It is a big game for us. Set pieces, again, become very important both in terms of defensive and attack.
"We will have to defend strongly, we don't have Ciaran Clark and big (Shane) Duffy, who has been excellent for us in both boxes. He will be missed."