O'Neill backs foxes to lift title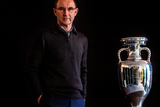 Leicester will top the Premier League at Christmas and former Foxes manager Martin O'Neill believes they could go on to carry off the trophy.
Under current boss Claudio Ranieri, Leicester have gone from being hotly tipped to be relegated to, at the very least, candidates to play in Europe next season.
It could be better than that, with Leicester showing no sign of letting up so far, having lost just once in the league to lead the way from Manchester City and Arsenal. They won 3-2 at Everton on Saturday to open up a five-point lead at the top of the table, at least until City and Arsenal play against each other tonight.
Ireland manager O'Neill led Leicester from 1995 to 2000, winning the League Cup twice, but he never achieved the Premier League success the current team are enjoying.
And when asked if Leicester could go on to win the league, O'Neill, said: "It is an extraordinary run, it is absolutely phenomenal.
"The very fact we're asking this question, it would seem ludicrous a couple of months ago even with the great, great start.
"Now you think this is actually possible. They've gone to Everton and got a fantastic result. They've only been beaten once this season, it's just incredible. And just for the very first time you're looking at whether the league is there for them or not.
"You're starting to think there's gaps developing in European places and then Champions League, and you think it would have to be a fall from grace now not to make that.
"It's not true of course, but it's getting to that stage and it is remarkable."
Gerry Taggart, who played more than 100 games for Leicester between 1998 and 2004, agreed with O'Neill that Leicester are now genuine contenders.
"It is amazing, let's face it, to be top at Christmas," he said. "Leicester are defying all the odds now and this is not just a coincidence any more.
"Saturday was another great result and another great performance and to go to Goodison and win against a good Everton team who are in good form themselves just proves this is no flash in the pan now, they've got to be taken seriously."