Nothing farcical about star turnout for Gleesons' big Olympia opening night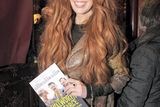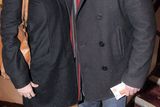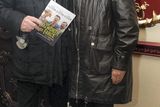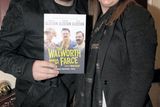 The creme de la creme of the Irish film, television and theatre industries turned out in force to see the Gleeson family star in The Walworth Farce last night.
Playwright Enda Walsh, fresh from his success with Ballyturk, was delighted with the turnout for the opening night of the latest production of his play.
"I've seen it three or four times now but we got a lot of pals in last night. People are always worried about opening night but I think they're a doddle," he told the Herald.
EMIGRATED
The Walworth Farce tells the story of Dinny - played by Brendan Gleeson - a proud Corkman who emigrated to London 20 years previously with his two sons, Blake, played by Domhnall, and Sean, played by Brian.
Every day, Dinny forces his two sons to re-enact a farcical play.
Broadcaster Joe Duffy was also there to see Ireland's top acting dynasty take to the stage.
"I recently saw Domhnall in Unbroken and I just watched Brian in The Stag and he was superb. I first saw Brendan on stage in the Francis Xavier Hall in the 70s and he's still brilliant - these boys are talented," he said.
"I saw Ballyturk and I really enjoyed that as well, the atmosphere was just electric."
Top director Neil Jordan and his wife Brenda turned out, as did actor Cillian Murphy, fresh from hi s turn in Ballyturk.
Other glamorous attendees included Sarah Greene, who is currently filming the second season of Penny Dreadful in Ireland, and her boyfriend, Hobbit actor Aidan Turner; Celtic Woman's Lisa Lambe; director Lenny Abrahmson and actress Norma Sheahan.
Love/Hate's Peter Coonan showed up with his partner Kim O'Driscoll and said he is excited about his new coming-of-age drama, Get Up and Go, coming out this year.
"I'm looking forward to my new movie, which also stars Killian Scott," he said.
"I've been on a break for the last seven weeks minding my daughter. She has brought me serious joy, especially around Christmas."
hnews@herald.ie