No more snow but wind and rain on the way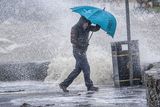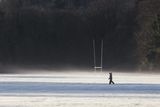 WE'VE seen the last of the winter snow, forecasters say, as temperatures are set to rise this weekend.
Sunday could see temperatures top 12C – that's 19C higher than the -7C recorded earlier this week.
However, Met Eireann's Gerry Murphy warned we have three more nights of sharp frost ahead of us.
"But that's the end of any significant snow fall for now with just the odd flurry over the mountains over the next few nights," he said.
frost
There was significant disruption yesterday in parts of Cavan, Sligo, Mayo, Limerick, Tipperary and Cork from overnight snow.
Temperatures will drop again to -4C tonight.
"On Thursday, it will be
a little less cold than recently with temperatures of 5C in Ulster and up to 8C elsewhere in a light southerly breeze," said Gerry Murphy.
Rain spreading from the Atlantic tomorrow will bring wet and windy weather before a cold night on Friday.
hnews@herald.ie