'No more glitches' after the €10m Lotto balls-up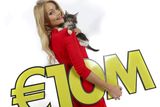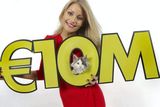 A LOTTO boss today said he was confident that a glitch that saw its machines out of action – forcing the postponement of a €10m jackpot draw – wouldn't be repeated today.
Last night's draw was abandoned for the first time in the National Lottery's 28-year history following a major telecommunications problem.
It will now take place this evening.
"We were very disappointed that this disruption was caused to our players and to our retailers but this particular issue was entirely outside of our control," National Lottery marketing director, Eddie Banville said.
"We had a telecommunications outage at 9am yesterday.
"Then it took us until 6 o'clock yesterday to reconnect all of our agents to the system and we were able to sell Lottery tickets again.
"It happened on the worst day because we had a jackpot of €10m which is the biggest jackpot we have had in quite some time," Mr Banville told RTE Radio.
"I'm very confident it won't happen today. I've spoken to all our retailers and our tech people at six o'clock this morning.
"All of our agents were online and ready to communicate with the system. That remained the case after seven o'clock," he added.
He added that there will be no special prize to make up for yesterday's blunder.
Sarah Burns from Dublin 2 was one of the many frustrated customers. "I was disappointed that I couldn't get my ticket. I made my way to the store specifically today," she said last night. "I have a wedding coming up, so you have to try as many chances as possible to win such a big jackpot."
Customers who did manage to purchase tickets yesterday have been reassured they will be honoured for tonight's draw.
A National Lottery statement last night blamed "technical problems" following a service outage related to the 3G infrastructure provided by Spanish firm Telefonica.
Tara Buckley head of RG Data who represents retailers across Ireland this morning said yesterday's outage was not the first problem her members had encountered with the new machines.
MACHINE
"We began receiving a large number of calls last November complaining about machine downtime.
"We launched an investigation into the complaints and found that up to 72pc of retailers had experienced problems with their machines."
Mr Banville said the issues stemmed from a problem with the change
over to new systems since last
year's takeover by Premier Lotteries Ireland.
"We don't foresee any problems when all the machines are running on the same system," he said.
hnews@herald.ie