'No funding in place' for rail links to airport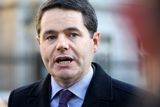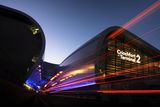 Transport Minister Paschal Donohoe has admitted there is no funding in place for proposed rail links to address the needs of commuters in north Dublin.
Last month, Mr Donohoe and the National Transport Authority announced a shortlist of six project options to address the future transport needs in Fingal and north Dublin, two of which were heavy rail options.
"There are six options under consideration and two of them are rail links. I currently don't yet have the funding to do that," he said.
He added that he would have to go back to the Government when evaluation is under way to gain funding, "and I hope support to begin a better link between the city and airport".
strategy
The preferred option will be included in the National Transport Authority's overall Greater Dublin Area Strategy plan, which will be presented to Mr Donohoe in June.
It emerged yesterday that the possibility of a rail service connecting the airport to the city centre is on the agenda. Irish Rail is planning new services that would mean the opening of a new rail line to Dublin airport.
"What Irish Rail are doing, and that's their right, is they are looking well beyond that to think how they might plan for the future. But I have not yet made a decision regarding a link between the city centre and the airport, yet alone beyond that," Mr Donohoe said on Newstalk radio.
fdillon@herald.ie