No Cunning escape for the Dubs
Rookie boss still trying out players as he finds feet but Galway edge out Walsh final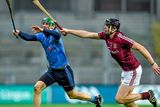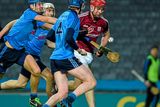 THE good news for Ger Cunningham is that two league points are far more important than a pot of early-season silver. It's never great to lose a Croke Park decider ... but if you are to do so, then February in the Walsh Cup is the most forgiving time and setting.
Twelve months ago, Anthony Daly's Dublin hurlers travelled to Salthill as Leinster champions for the first round of the league ... and were humiliated, 0-28 to 1-12, by a rampant Galway who probably couldn't believe their luck.
On Saturday night in a Croke Park that was semi-deserted for the most part (until the football-only brigade arrived to take their seats) a Dublin team now under Cunningham's stewardship again lost to Galway ... except the margin was far tighter and the outcome less galling.
In essence, losing a Walsh Cup decider doesn't matter. But losing to Tipperary in Parnell Park next Sunday? A different story.
"The league is obviously going to be the focus going forward, irrespective of the result here," Cunningham surmised. "We'll be disappointed tonight and maybe tomorrow after losing, but heads up and look forward to next Sunday."
In truth, his team could have won but to have done so would have been ill-deserved in the context of their second half performance dip, their greater profligacy - and also their indiscipline.
Galway, having trailed by seven points after 19 minutes, took full advantage of all the above and it was only fitting that James Regan should get the decisive goal in the 68th minute. The corner-forward capitalised on some crossed wires between the Dublin full-back line and Alan Nolan, leaving the 'keeper stranded as he kicked into an unguarded Hill 16 net.
VIRTUOSO
Then in injury-time, Regan brought his night's work to 1-4 from play with a virtuoso effort from the wing - all stemming from Jonathan Glynn's soaring catch and offload.
Glynn had been a thorn in Dublin's defence throughout, reflected in one noteworthy stat: he was fouled for five pointed frees, four in the first half alone.
Peter Kelly may be a former All Star full-back but, even during Dublin's early dominance, he was struggling in his new centre-back posting against Glynn's prodigious aerial threat. The Lucan man was already on a yellow when he dragged down his direct opponent in the 20th minute - his third personal foul against Galway's No 11 totem.
Jason Flynn nailed that free, as he did virtually all evening: he finished with 11 placed ball arrows from all distances and just one second half miss to blot an otherwise flawless copybook.
Kelly subsequently switched to the wing and seemed happier for the relocation, reflected in a point of his own just after the restart: that restored a four-point cushion for the hosts but, thereafter, the game became more of a struggle.
They scored just eight points in the second half (compared to 1-12 in the first) and two of those came very late on, via subs Cian Boland and Danny Sutcliffe, as if in shocked response to the imminence of defeat after Regan's goal.
In between Kelly's point and that late salvo, the wide count mounted: they had eight in the second half compared to just two from the more frugal visitors.
Dublin's purple patch had come much earlier, midway through the first half, as they monopolised five Colm Callanan puckouts in a row and scored 1-3 in the process - Liam Rushe claiming an 18th minute goal with an impudent flicked finish over Callanan's head.
But they couldn't sustain it and if you were to compile a rap-sheet against the disimproving Dubs, it could be distilled down to the wides (12 in total), the fouls (11 punished) and the seven-point lead surrendered.
"We mixed the very good with some not-so-good," Cunningham reflected.
"But overall, taking everything into consideration, still a lot of positives to be taken out of it. We've tried to find a few new players, and I think we've found a few."
The Corkman went on to namecheck some of those individuals. "I thought some people put up their hands tonight - Shane Barrett did some really good things, maybe started slowly but he got a phenomenal score and could have got another one," he pointed out.
"Chris Crummey - his first game since he played an U21 final with his club back in November. I thought he did a lot of very good things tonight, he showed that he can play at this level.
WORK-IN-PROGRESS
"We gave Shane Stapleton a game tonight to see how he was performing, can he play at this level? Started very well, he got a couple of very good scores, and he showed again that he's a work-in-progress and the more of those we can find, the better."
On the subject of those ruthlessly punished fouls, the Dublin boss deemed some of them "dubious" but still stressed: "You need to learn. I think you can make them earn their score more so than giving away silly frees.
"So that's something we've to work on - our discipline and our tackling."