New road layout to affect traffic at East Link bridge and Point Village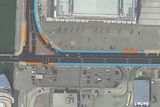 A NEW traffic scheme could see port access relocated and the Point Village roundabout removed.
Dublin City Council have published plans to redraw the area around the 3Arena and the East Link bridge.
The area is one of the most notorious in the city for traffic congestion and this is heightened when concerts are taking place in the 3Arena.
The proposals include the removal of the roundabout to replace it with a three arm signalised junction.
Upgrades
City planning officials believe it will ease traffic in some directions but have admitted that the plans could lead to increased queues at peak times on the East Wall Road and the East Link Bridge.
"As the provision of safe and convenient pedestrian and cycle crossing facilities requires a reduction in junction capacity, there will be slight increases in queuing on certain junction approaches," the report said.
An additional northbound traffic lane will be also be added along East Wall road with a cycle track and a footpath.
It is hoped that the extra lane will ease congestion on the East Wall Road and onto the bridge.
Pedestrian and cycle facilities in the area will be upgraded as it is increasingly busy for this type of traffic, according to the public consultation document prepared by planners.
The upgrade to pedestrian and cycling facilities in the area are the "main benefit" of the redesign, according to planners.
However, Colm Ryder of the Dublin Cycling Campaign has said that the plan "leaves a lot to be desired".
"It's certainly an improvement but it's not quite perfect," he told the Herald.
"The big problem at the minute is access to the East Link Bridge as cyclists have to dismount to cross it and that doesn't seem to be addressed in these plans," he explained.
Upgrades are necessary as it is a dangerous place for cyclists at the moment, he added. "It's not somewhere that people who aren't experienced cyclists would feel safe."
Port access will be relocated to the Sherrif Street and East Wall Road Junction to replace the left-in-left-out scheme in place at the moment along the East Wall Road.
Pedestrians
The report notes that the relocation of port access is consistent with Dublin Port Company's plans for cruise port facilities which will see an increase in pedestrians.
A number of buses serve the area - including the Swords express and the 747 - and traffic is often delayed when passengers are boarding northbound buses.
At the moment there is no way for northbound traffic to overtake buses which are stopped to take on passengers. as there are no bus in-lays.
It is envisaged that work will not begin on the site until late 2016 or early 2017. Members of the public can make submissions until September 14.