Mum's 3.30am start for 'heaven from Penneys'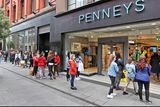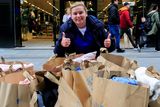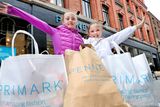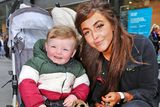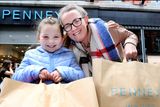 It is one of Ireland's oldest and best-loved stores, and some shoppers queued from just after 3am to get back inside the hallowed aisles of Penneys after almost three months.
Hundreds of shoppers queued outside the flagship store on Mary Street in Dublin yesterday and gardai allowed some in at 8.45am, despite the opening time having been set for 10.30am.
One woman said she had begun queuing at 3.30am to buy clothes for her kids.
Bags
A long queue stretched right around the block at Mary Street and O'Connell Street in the morning and into the afternoon.
Many shoppers expressed the same sentiment - a visit to Penneys was a sign of getting back to "normality".
Nadine Sherry and daughter Brooke (8), along with other family members, emerged from the store at around 10am with several bags close to bursting.
"I needed a lot of things," said Ms Sherry, from Dublin city centre.
"I got PJs and new bedclothes, but it was more about coming in today after lockdown than the actual shopping."
An excited Brooke said: "It was about getting back to normal. I missed Penneys."
Kristina White (20), from Crumlin, said: "I got here at 8.30am. It's different to how it usually is. There's more space, but it was crazy busy.
"It was a great experience to be back. I got some bits for the holidays. I'm going away next year. I had fun. It was brilliant."
Very few shoppers and only some staff wore masks, despite Chief Medical Officer Dr Tony Holohan's advice to wear face coverings in shops and on public transport.
From around 8am, gardai were manning the streets outside the flagship store as the good-natured queue grew ever longer.
Sophie Dromgoole, Robyn Gavin and Clodagh Cummins (all 17), from Beaumont, were making the most of their first day back at the store.
The friends were all delighted with their shopping, which included new clothing.
Nadine Dennis (20) and son CJ (2) also got up early to pay a visit to Mary Street.
Craic
"I couldn't get some of the things I needed like bedclothes online," Ms Dennis, from Kilbarrack said.
"I came in at 8.30am to beat the queues. One woman was queuing from 3am with a child. It was a great atmosphere, we were all having the craic.
"It's fantastic things are going back to normal, and Penneys is a big part of that for people."