Mum was in jail as knifed grandad minded children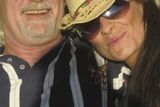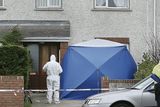 Ken Foy Crime Correspondent
MURDERED grandfather Michael Gannon was babysitting his daughter's children because gardai had arrested her for not paying a fine.
The 55-year-old was minding the children, aged five and nine, while their mother Jade spent a number of hours in jail.
He was targeted by a crazed knifeman and stabbed to death in Ms Gannon's home in Mourne Park, Skerries, on Thursday evening.
WARRANT
The Herald has learned that gardai executing a bench warrant issued by the local district court arrested Ms Gannon (31) earlier in the day.
She had met officers by appointment and was subsequently arrested and taken to Balbriggan District Court.
After her court appearance, she spent a number of hours at the Dochas Centre women's prison in the Mountjoy complex. She had been jailed for 21 days for failing to pay a fine, but was released at around 4pm.
She had not made it back to the house in Skerries by the time her father was stabbed to death shortly after 5pm.
Earlier, Ms Gannon, of Mourne Park, Skerries, appeared before Balbriggan District Court after she arranged to meet Gda Campbell Brennan, who executed the arrest warrant.
Ms Gannon faces separate charges of criminal damage at Mourne Park on March 3, 2012, having no insurance at Balbriggan Street, Skerries, on September 13, 2012, and being intoxicated, using threatening and abusive behaviour and failing to pay a taxi fare at Mellows Road, Finglas, on June 23, 2012.
Judge Dermot Dempsey remanded her on bail until November 28.
Gardai were last night continuing to question the only suspect in the case. He is a 29-year-old eastern European man who has a history of psychiatric problems.
Two homes remained sealed off or forensic examination last night – the scene of the stabbing and the scene of the arrest at Mourne Park.
NEGOTIATIONS
Mr Gannon, of Ratoath Drive, Finglas, was attacked shortly after 6pm on Thursday. Gardai tried but initially failed to gain access to a nearby house to speak to a man there.
After negotiations, they were allowed in and the man was arrested while the suspected murder weapon – a large knife – was recovered. The man was still being questioned last night.
kfoy@herald.ie