Mum gets €21k after friend beat her up at school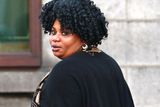 A WOMAN who sat on top of another mum and punched her in a row over picking up children from school must pay €21,000 damages to her victim, the High Court ruled.
Mr Justice Michael White said he was satisfied that Abiola Adiyinka was injured in an unprovoked assault.
The court heard Ms Adiyinka and Idowu Nduirbu, who are both from Nigeria, were friends and their daughters went to primary school together at St Bernadette's in Quarryvale, Clondalkin, Dublin.
accounts
Ms Adiyinka, of Harelawn Drive, Clondalkin, sued Ms Nduirbu, of Liffey Grove, Lucan, as a result of the assault as they both waited outside the gates of St Bernadette's on November 5, 2010.
Mr Justice White said the accounts of the two women were diametrically opposed and the only objective evidence in the case was the medical evidence.
Ms Adiyinka was seen by a doctor and received 20 stitches to her head.
The judge said the injuries were of a soft-tissue type and he assessed general damages at €20,000 along with special damages of over €1,000.
In evidence, Mrs Adiyinka said she was pulled from a car by her hair and Ms Nduirbu sat on her chest while she punched her in the face while she was holding her car keys in her hand.
"She sat on my chest. It was like I was paralysed. Two men had to lift her off me," Ms Adiyinka told the court.
Ms Nduirbu claimed she had acted in self-defence when Ms Adiyinka had called her names and she had only loosely held the other woman to the ground with her knees.
The court heard Ms Nduirbu had pleaded guilty before Dublin Circuit Criminal Court to assault causing harm in relation to the incident. An 18-month suspended sentence was imposed.
Mr Justice White said there was an arrangement between the women that Ms Adiyinka would bring Ms Nduirbu's daughter home with her at times and sometimes Ms Nduirbu's two other children would also walk to the friend's house.
Both sides had complaints, with Ms Adiyinka feeling put upon, and she thought her friend was abusing their friendship.
arrangement
Ms Nduirbu complained that her friend had on previous occasions changed her mind at short notice about picking up her child at school, he said.
The matter had come to a head in November 2010 after Ms Adiyinka indicated over the phone to her friend that she was not going to continue the arrangement, he said.
hnews@herald.ie