'Moulin Rouge isn't racy, it's glam', say Dublin stage star sisters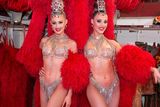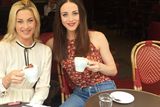 Dublin sisters Claudine (24) and Isabelle Van Den Bergh (19) have taken Paris by storm high-kicking across the Moulin Rouge stage.
The cabaret may have a rather risqué reputation, but the dancing sisters believe it is a family-friendly show.
"You're covered and it's not racy at all, it's actually quite glam," Claudine, from Sutton, told the Herald.
"The girls look glamorous. They're actually quite beautiful and everyone is usually in awe when they see them.
"We're completely dressed; we're wearing jewels, plumes, bras, pants, skirts, big hats."
While Baz Luhrmann's 2001 Oscar-winning film Moulin Rouge! had plenty of raunchy dance numbers, the real-life show attracts family audiences, Isabelle said.
"You can sit down and have a dinner. We have dinner shows and we have the same show that runs later. We have a lot of family groups that would come for the show," she said.
Isabelle (right) said her parents were always very supportive of their dancing career and encouraged the two sisters to pursue their dreams.
"They've always been there during our training and now our careers; they'd even go to our auditions. They're really helpful," she said.
There are over 1,000 costumes - and millions of sequins - used during each performance at the Moulin Rouge and a team of 25 dressers are always on hand to make sure everything runs smoothly.
Claudine has been with the production in Paris for the past three years, having aced her audition in London under the watchful eye of Janet Pharaoh, the Moulin Rouge ballet mistress.
Isabelle soon followed in her sister's footsteps, passing her audition with flying colours in Leeds last year.
Following a successful audition, each artist must undergo an extensive training and rehearsal period, which lasts a month.
"After that, depending on what part you do in the show you have at least one rehearsal a month, but it could be more depending on if you're a soloist or just dancing," Isabelle explained.
The sisters are part of the multi-disciplined Doriss Girls troupe. The company's dancers have a very demanding schedule, with two shows a night and only one day off a week.
Social
The costumes might be elaborate and over the top, but the girls certainly aren't. They spend their spare time being tourists, shopping and going for dinner with friends.
"A lovely big French dinner is my social life," Claudine said.
Claudine and Isabelle are currently the only Irish dancers in the show.
Isabelle's favourite part of the show is the French Can-Can because "it combines dance and gymnastic training and it is full of energy."