'More will die' on city streets this winter if €18.5m is not found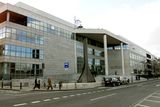 More people will die on our streets come winter unless €18.5m for homelessness services is found.
The stark prediction from Inner City Helping Homeless comes after Dublin City Council said it has been left with the massive financial shortfall in its efforts to tackle the growing problem.
The council's assistant chief executive, Dick Brady, said it is facing the worrying budget deficit due to the escalating costs of dealing with more and more homeless people being placed in emergency accommodation.
The estimated cost of homelessness services for this year is €68m.
The Government allocated €35m in funding last year, but the council says it needs an extra €18.5m to provide the services required.
Fianna Fail councillor Paul McAuliffe said the scale of the deficit had come as a shock to many public representatives.
"It's in marked contrast to the commitment that Minister  Alan Kelly gave that cross-party group last December following the death of Jonathan Corry when he said finances would not be an issue in terms of taking people off the streets,"  said Mr McAuliffe, referring
to the homeless man who died in a doorway just a few steps from Leinster House.
"It has been clear all of last year and this year that the homeless crisis is increasing.
"There were more than 30 people a month presenting as homeless last December, and now it is more than 60 in May and June presenting each month.
"If we don't have the money we won't be able to provide any sort of emergency accommodation in the final months of this year and clearly that is not an option."
Anthony Flynn of the not-for-profit Inner City Helping Homeless group that feeds and gives clothes to the homeless warned that if emergency accommodation in hotels is stopped due to a funding crisis, it will result in 2,500 people being put on to the streets, 1,122 of whom are children.
"It is very possible that more will die," he told the Herald.
"Winter is not that far away, and the problem is getting worse, not better.
"I will be calling Taoiseach Enda Kenny personally to ask him to intervene.
"He walked the streets of Dublin with us last December and promised that there would be no more incidents like Jonathan Corry.
"We are dealing with a whole new class of homeless people now in this city, people and their families who can't afford rising rent.
"It's not only people with addiction problems, either. It's anybody."