Model Vogue Williams battles to survive in Bear's Grylls's 12-day jungle trial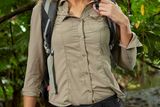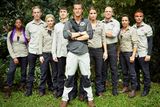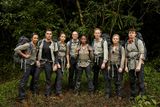 It might look like Vogue Williams is heading into the jungle but where she's going makes the I'm A Celebrity camp look like child's play.
The model-turned- presenter is set to take part in Bear Grylls's new adrenaline-fuelled show called Mission Survive.
The TV adventurer takes eight celebrities into the depths of one of the most unforgiving Central American rainforests, where they will be competing in an epic 12-day survival mission.
Joining Vogue on their Central American adventure will be former Voice of Ireland coach Jamelia, actor Laurence Fox, actress Emilia Fox, comedian Tom Rosenthal, former English rugby player Mike Tindall, Olympian Dame Kelly Holmes and Max George, from boyband The Wanted.
test
The show will be no picnic, with the celebrities being issued daily mission briefings by Bear which will test them on the "fundamental principles of survival" - shelter, water, fire and food.
They will have to navigate treacherous obstacles and journey through dangerous dense jungle, testing their ability to adapt, improvise and overcome in one of the world's most hostile environments.
"This show is all about empowerment and I am so proud of how the celebrity team who joined me on Mission Survive performed," Bear said.
"It was without doubt a tough expedition, but also a very life-enhancing adventure for everyone involved.
"I would set them daily survival missions and would then regularly back away, leaving them to their own devices, so that they would learn by doing it and making mistakes. That's the source of all genuine growth in a survivor.
"I was looking for the qualities that a survivor in a real life scenario most needs: positivity, resourcefulness, courage, determination, and a whole heap of bloody mindedness," he added.
At the end of every episode Bear will eliminate one celebrity.
We'll have to wait and see if Vogue will make it to the final three at the end of the series and become the Mission Survivor.
hnews@herald.ie