Miracle as nobody seriously hurt in five-car pile-up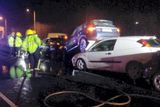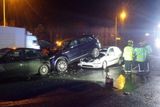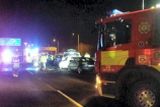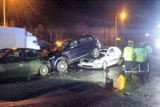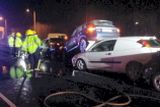 THERE was a five car pile-up on the M50 ringroad near Ballymun last night, but miraculously nobody was seriously injured.
The collision occured on the northbound side of the motorway at about 8.20pm.
Six units of the Dublin Fire Brigade (DFB) responded to the scene near Junction 4, including four tenders and two ambulances.
It's understood that no one was badly hurt.
A number of people were tranferred to the Mater Hospital for treatment.
DFB posted dramatic images of the crash on its Twitter account last night and credited the fact that the motorists were all wearing seatbelts for the lack of serious injuries.
The crash caused significant delays on the M50 with all three lanes on the northbound side closed while the emergency services dealt with the incident.
hnews@herald.ie