Michael O'Doherty: It's Round one but will Kenny's show be on song with guests like Lulu?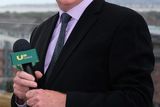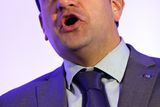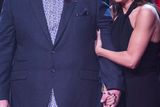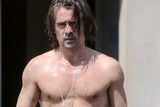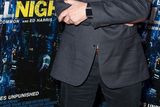 Today is D-Day for Pat Kenny and UTV Ireland - because nine months after he was first announced as the star of the new station we are finally going to see Pat Kenny in the Round.
It's the day that we'll find out whether Pat Kenny is as popular and skilled a broadcaster as many people would believe. With one of that fan club being, it seems, Pat himself.
In an interview with the RTE Guide last week, Pat's self-confidence shows no signs of having abated since his sensational departure from the station.
"It will be hanging on me rather than any RTE brand loyalty," he explained in a quote which suggests two things. Firstly, you will note that Pat has managed to get his own name into the title, something that even Gay Byrne couldn't do on the Late Late.
powers
Pat is obviously happy with this set-up, content with the suggestion that it will be his powers as an interviewer upon which the show will sail or flounder. It's possibly just as well, as the names mentioned so far as his conversational foils - Mickey Harte, Chris Hadfield and, most bizarrely of all, Lulu - are hardly enough in themselves to have the crowds tuning in.
Secondly, while it is brave of Pat to nail his colours to the mast, is it just me or is he perhaps getting his excuses in early, talking up the brand loyalty to RTE, and implicitly stating that if people don't tune into his UTV Ireland show, it will be because the station doesn't have the same "loyal" following?
Amidst all these questions, Pat Kenny may have changed employers, but his ego is utterly undiminished.
"It had been indicated to me by RTE that I might do TV on RTE again," Pat revealed to the Guide. "There would have to be 'a cleansing period' following the, if you like, 'scandal' of my leaving ... The corporation was wounded by my departure and a little time has to elapse before the wound heals."
Implicit in Pat's comments are that RTE did not foresee his resignation as a result of axing Frontline, having done so they have come to regret it, and cannot wait to have him back, something which seems a tad smug of Pat to claim, especially when figures would suggest that they are not missing him that much.
Claire Byrne is doing an admirable job in his place on TV, and as regards his radio show, Pat has failed to make the inroads that both he and Newstalk would have expected him to. Eighteen months on, his show has stagnated at 142,000 listeners, less than half of what the considerably lower-key Sean O'Rourke is pulling in on RTE1.
struggle
This may be down to "brand loyalty" as Pat implies, but it may also, just perhaps, be a reflection that Pat is not the box office that RTE's rivals, and perhaps even Pat, think that he is.
All of which suggests that Pat Kenny in the Round has a struggle on its hands.
While Newstalk already had a healthy following when Pat joined, UTV Ireland's viewership figures border on the infantesmile, and it will take something quite spectacular to get middle Ireland to tune into it for anything other than Coronation Street and Emmerdale.
Somehow, I don't see Pat chatting to Lulu falling into that category.
Calorie counts on menus would reveal secret of fine dining ... lots of butter
Three months ago, Leo Varadkar floated his idea of having restaurants publish calorie counts on their menus, which he quite reasonably describes as "a very simple but effective way of encouraging people to choose a healthier option".
Leo Varadkar
It's a plan which should be welcomed even more following the revelation by the World Health Organisation that Ireland is on course to become the most obese nation in Europe. By 2030, the report suggests that 89pc of us will be either overweight or obese, adding that: "Policies to reverse this trend are urgently needed ... Governments must do more to restrict unhealthy food marketing and make healthy food more affordable."
Far from supporting the campaign, however, Irish chefs are up in arms. Ross Lewis added his voice to the opposition, stating that "they are almost like the water charges to our industry. What you are really going to be doing is stifling any kind of creativity because people won't change menus. It's just really stupid.
"I'm not at all saying that there isn't an issue there that needs to be addressed, but I don't think the answer to that problem lies in putting calories on a menu in a restaurant like this."
What he means by "restaurants like this", of course, is his own Michelin-starred Chapter One, implying perhaps that obesity is not a major problem amongst his clientele. He may well be right, but the problem is that if you introduce calorie counts for fast-food restaurants, where do you draw the line between restaurants that "encourage creativity", rather than stuff your face with junk?
Just maybe, the finer dining establishments don't want you to know one of the secrets of those powerful, nuanced flavours that they get from their dishes, lest they get reflected on a calorie counter. Because in case you didn't know, it's lashings of full fat, artery-clogging butter...
Axe The Voice of Ireland before we're all broke
If there was ever any doubt that The Voice of Ireland is never going to produce an act with a sustainable music career, this weekend will have laid it to rest.
Figures just released reveal that the winner, Patrick Donoghue, sold just 91 copies of his single Mama Knows Best, despite nearly half a million people tuning in to watch him win.
Patrick Donoghue and Una Foden
Rather than admit the patently obvious, an industry insider has argued that, having spent their money on text voting, viewers simply didn't have enough left over to purchase the single. This means, by simple logic, that The Voice has drained the majority of its viewers' savings down to their last €1.29.
So on that basis alone, shouldn't the show be axed?
A body of work Colin can be proud of
Colin Farrell
Colin Farrell was in the news this week and, as per usual, it is nothing to do with being in a hit movie.
Instead, Farrell  emerged from a yoga class in LA sans shirt, allowing the awaiting paparazzi to get a photograph of what is, it must be admitted, an impressively toned midriff for a 38-year-old.
It might seem a tiny bit strange that Colin should feel the need to blatantly show off his upper half to the world in order to garner some column inches, but it is a sad reflection of what has become of him in the past decade
It will be interesting to see whether TV series True Detective will re-launch his acting career after a series of flops.
Most actors strive to have a body of work they can be proud of. Colin, on the other hand, just seems to have a body...