Mexican ambassador wanted meeting on Garthgate satire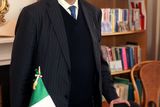 It seems the Mexican Ambassador to Ireland, Carlos Garcia de Alba, wanted information regarding his portrayal in the upcoming theatre show, Are You There Garth? It's Me, Margaret.
The stage play, written by Fiona Looney (pictured right), explores the "highs, lows and sheer madness" surrounding the cancellation of all five Garth Brooks Croke Park gigs last summer.
All the key players involved in the debacle appear in the new show - including Enda Kenny, Owen Keegan, Michael Martin and former Lord Mayor Christy Burke.
According to Looney, His Excellency Carlos Garcia de Alba has "persistently" contacted the producers of the stage show in recent months.
"I think he wanted to discuss his role and make sure he was portrayed in a favourable light," Looney told the Herald.
"Obviously, I declined as I thought it would be a little strange to have the Mexican Ambassador to Ireland involved in the creative process. It would be a conflict of interests, but he really persisted.
"You can't meet up with the people you are satirising - it would definitely affect your writing," she added.
The Mexican Ambassador became embroiled in Garthgate thanks to Mr Burke, who thought the ambassador would be able to "intervene at a diplomatic level" and save the gigs.
His Excellency also contacted the show's producer, Darren Smith, several times requesting a meeting.
Smith - perhaps best-known as one of the writers of Dustin the Turkey's ill-fated Eurovision entries Irelande Douze Points - politely declined the offers. When contacted last night, the Mexican Ambassador's cultural attache, Laura Mora, refused to comment on whether His Excellency had been in touch with Smith or Looney.
Ms Mora added she had "no idea" how the ambassador currently feels about his depiction in the show.
But Looney says Carlos needn't worry about her script.
"I've turned the farce and idiocy up to 11, but he looks no more foolish than anyone else in the play," she said.
The production will open at the Gaiety Theatre in October with Deirdre O'Kane in the lead role of Margaret.