Metro North to cost €2.4bn – but won't be built for 12 years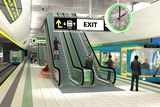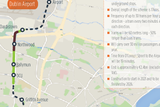 The much-awaited Metro North project won't be completed for at least 12 years, with work not commencing on the delayed initiative until 2021 at the earliest.
The previously-shelved Metro North plan is part of the Department of Transport's €3.6bn budget to be spent on infrastructure for public transport, with a total of €10bn allocated to the
department.
Earlier this month, Transport Minister Paschal Donohoe announced that the €3bn Dart Underground project would be scrapped in favour of a scaled-down version.
READ MORE:
However, work will not begin on the rail network until 2021 at the earliest, with the project not expected to be completed until 2026.
Metro North was originally planned to open in 2012, with original plans set out in 2006. However, the economic crash meant that the project has been delayed by over 14 years.
READ MORE:
Opposition politicians have also questionned the announcement, describing it as "another empty election promise".
Capacity
The revised Metro North is expected to cost in the region of €2.4bn.
Paschal Donohoe explained that Fingal is "one of the fastest growing areas in the country" and has been recorded as having four times the population growth of Dublin City
The minister said that a revised Metro North scheme was the "most appropriate public transport solution to address the transport needs of the Swords/Airport, City Centre Corridor".
"This will provide a high capacity public transport link along the City Centre/Airport/Swords corridor which has been an objective of Government for some time," he added.
READ MORE:
Consultants found that the Metro North project presented opportunities to reduce costs, including the building of smaller stations. Tram lengths can be reduced from 90m to 60m, meaning platform lengths can also be shortened.
Greater accessibility from the Luas Cross City initiative means that fewer stops can be used for the Metro North project
Stations were proposed at O'Connell Bridge and Parnell Square, but now there will be a single stop on O'Connell Street.
The revised lower cost new Metro North will be a 16.5km light rail line connecting St Stephen's Green to Swords, via Dublin Airport.
Almost 8.5km of the route will run in a tunnel from St. Stephen's Green to Griffith Avenue and under the airport. The route will serve key destinations such as Drumcondra, the Mater Hospital, DCU and Ballymun in addition to Dublin Airport and Swords, offering a journey time of 19 minutes from O'Connell St to the Airport and 31 minutes from O'Connell Street to Swords Estuary.
Commuters
Dublin Chamber of Commerce welcomed the announcement, with CEO Gina Quin (inset) describing it as a "win-win" for commuters who travel between north county Dublin and the city centre and international travellers.
"Currently, one third of all people commuting into the city by private car are coming from points to the north and north-east of Dublin. Other options which had been under consideration would have left commuters with much longer commute times, which would have lessened the chances of them opting for public transport as opposed to the private car," Ms Quin said.
However, Fianna Fail Senator Darragh O'Brien described the announcement as "nothing more than an election stunt", adding that the scaled-down Metro North plan could mean losing up to 67pc capacity.
"What we are looking at is a significantly scaled-back version of Metro North without the savings to justify a massive reduction in capacity," he said.
"Essentially, it is an Airport Luas that uses smaller stations designed for small tram carriages that cannot accommodate the huge increase in passengers promised by original plans.
"The people of Dublin will be extremely sceptical about this plan," Mr O'Brien added. "It is difficult not to see this as yet another empty election promise."