Medic who cared for Ebola man in Texas tests positive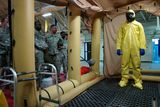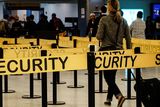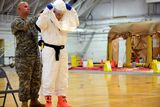 A health worker at the hospital in Texas treating the first person diagnosed with Ebola in the US has tested positive for the deadly virus, raising new worries about the spread of the disease beyond West Africa.
The worker, believed to be a woman, at the Texas Health Presbyterian Hospital had been wearing protective gear during treatment of the patient, Thomas Eric Duncan, who died last week.
The woman reported a low-grade fever on Friday night and was isolated and referred for testing.
"We knew a second case could be a reality, and we've been preparing for this possibility," said Dr David Lakey, commissioner of the health service.
The worker is the first person in the US to test positive for Ebola who has not been to West Africa, where an outbreak has killed more than 4,000 people, mostly in Liberia, Sierra Leone and Guinea.
criticised
"This individual was following full CDC precautions which are barrier and droplet so gown, glove, mask and shield," said Dan Varga, the hospital's chief clinical officer.
The hospital has been criticised for at first turning away Mr Duncan when he first showed up on September 25, saying he had been in Liberia and had a fever.
Two days after he was discharged he was taken back by ambulance and put in an isolation unit.
The director of the Centres for Disease Control and Prevention (CDC) said in an interview yesterday that there was probably a lapse in protocol at the hospital that led to the health care worker being infected.
"We're deeply concerned about this new development," said Dr Thomas Frieden. "I think the fact that we don't know of a breach in protocol is concerning because clearly there was a breach in protocol."
Mr Duncan died in an isolation ward last Wednesday, 11 days after being admitted, with more than 50 people attending to his care. His body had been cremated.
None of the 10 people who had close contact with him or 38 people who had contact with that group have shown any symptoms. Texas officials did not identify the health worker.
Dr Anthony Fauci, the head of the National Institute of Allergy and Infectious Diseases, said the patient had direct contact with Mr Duncan in providing care.
He said the CDC would "fortify" the protocols for caring for Ebola patients after reviewing the incident in Dallas.
The health worker was taking her own temperature twice a day. She told the hospital of a fever and was isolated immediately.
New York's John F Kennedy Airport on Saturday began the screening of travellers from the three hardest-hit West African countries.
Liberia is the country worst affected by the virus with 2,316 victims, followed by 930 in Sierra Leone, 778 in Guinea, eight in Nigeria and one in the US. Some 4,033 people are known to have died in seven countries.
Ebola is spread through contact with bodily fluids of an affected person or contamination from objects such as needles. People are not contagious before symptoms such as fever develop.
The UN said on Friday that its appeal for $1bn to respond to the West Africa outbreak was only 25pc funded.
hnews@herald.ie