McGregor flying Mick to Vegas as thanks for song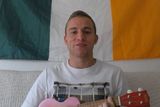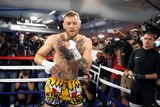 A teacher whose song about Conor McGregor impressed the fighter so much that he is flying him to Las Vegas for his big fight has been allowed time off work to attend.
Internet sensation Mick Konstantin posted a video of him singing a catchy tune he wrote about The Notorious last week, and within hours it was re-posted online by McGregor.
The 24-year-old teacher from Kildare was contacted by McGregor's management team a day later and was told they would like to fly him over for the fight with Floyd Mayweather on August 26.
Loved
Mick and a pal will head over, with their flights, hotel and tickets all paid for.
In an interview last week with MMA Fighting, McGregor said he loved the song and wanted to repay Mick for the effort.
"It was one hell of a song. It's a very catchy song. We actually reached out to the guy," McGregor said.
"I had my people reach out to him and we're booking him a flight, him plus one.
"We're going to bring him over to the fight and get him tickets and put him up in a hotel and I'm going to meet him maybe after the fight.
"I'm going to bring him in as a thank-you for the support.
"What a song - it's the journey in music form.
"Myself and my team, we enjoyed it very much, so we're going to fly him out. Him and a friend."
Asked about the frenzy since the video was posted, Mick said "it has been mad".
He had previously gone viral last summer, with his tune Takin' Over France during Ireland's Euro 2016 journey, but said this has been at the next level.
"It's taken off really well, more than the last one," he said.
Mick has jumped at the opportunity to attend the fight, but had to get cover in work to get away.
He teaches Irish and PE at Maynooth Post Primary School.
"The day I'm heading off is the Thursday that school starts back," he said.
"The principal texted me saying, 'Good man yourself Mick, brilliant how well the song is going and don't worry about taking a few days off'."
Craic
Mick said he expects there to be a bit of craic from his students when he gets back into the classroom.
"The younger ones will think it's good but the older ones probably think I'm an idiot," he said.
He said that while there was a bit of work put into the lyrics, he knew a lot of McGregor's famous quotes off-hand.
"I spent two to three hours going through his YouTube stuff to make sure I hadn't missed anything," he said.