Man held over gun murder at wedding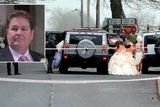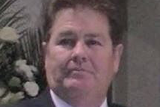 A MAN has been arrested over the shocking murder outside a Traveller wedding.
Father-of-nine Barney McGinley was brutally gunned down just minutes before his niece made her way down the aisle at St Mary's Church in Newtownbutler, Co Fermanagh, last week.
The attack is linked to an ongoing and long-running feud between warring Traveller families.
Mr McGinley (inset), who lived in Co Longford with his wife Bridget, was rushed to a nearby PSNI barracks and airlifted to hospital along with two other men whoe were injured in the attack.
However, he was later pronounced dead.
Read More:
The wedding was delayed for a time but subsequently went ahead following the attack.
Last night the PSNI said they had arrested one man in connection with the death.
"Detectives investigating the murder of 63-year-old Bernard McGinley have arrested a 46-year-old man in Belfast.
"Detective Chief Inspector Una Jennings said the suspect was being questioned at a police station in the city. Police enquiries are continuing," the PSNI said.
The arrest follows media reports that a relative of the dead man was preparing to hand himself into police in connection with their investigations.
The man has been in hiding since the wedding and both he and his family have been receiving threats, according to the reports.
There was a very heavy garda presence at Mr McGinley's funeral last week and officers are on high-alert for further violence in the wake of the attack.
At the funeral, a letter written by Mr McGinley's children was read out thanking him for all he had done for them during his life.
"We wonder if we ever thanked you enough for the sacrifices you made to let us have the very best," the letter read.
hnews@herald.ie