Madonna rapper vows to 'push it to the limit' to wow TV judges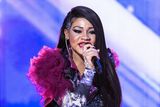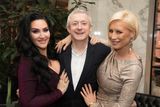 Dublin rapper and Ireland's Got Talent hopeful Tamara Operi is hoping to wow the judges tomorrow.
Tamara (28) revealed that her audition was the first time she had got up on a stage in two years after losing confidence in her musical career.
The Liberties entertainer has been rapping since she was a teenager, and after years of trying to make it big she took some time off "after losing hope".
Trying
"I've tried my hand everywhere. I've tried the UK and the States as well but I missed home so I came home. My audition was the first time in two years that I had performed," she said.
"There was a time when I thought, 'Forget it'. I lost hope in myself.
"I looked at it like, I've been trying for 10 years and it's not working out. I just lost confidence in myself, but then I thought, 'This is the year that I'm going to pick myself up and put myself out there and try again'."
Tamara, who works as a make-up artist in the Dublin Brown Thomas store, performed a mash-up rap song to a Madonna backing track, which she described as a "spice bag of music".
"The concept was modern day rap merged with the old school variety. I'm almost embarrassed to tell people I rap in Dublin because they're like, 'Oh, God, I don't like that rap stuff'. Everyone likes Madonna, so I met them halfway," she said.
Although she was nervous ahead of her audition, Tamara is glad she gave the series a shot.
"Anyone would be lying if they said they weren't nervous, but once you're on stage and the music is on, everything just goes," she said.
"I'd encourage anyone to go for it. I was kind of doubting it after, going, 'Oh, my God, what have I done?' But it can only be good. I'm going to keep going and push it to the limit."
Tamara is no stranger to the cameras and was previously a contestant on The X Factor in 2012. Although she made it far in the competition, her audition never aired.
"They just showed me at boot camp. I made it to the last 40 right before the judges' houses. It was a good experience, but I was 21.
Ready
"I've been through a lot, so I feel 100pc ready. They said they liked it and the performance was good. You can imagine how disappointed I was when it didn't air."
Louis Walsh gave Tamara some advice during The X Factor, but she's not sure if he remembered her at her Ireland's Got Talent audition.
Tamara is not the only rapper on this weekend's episode. Latvian Sigita Kudima (30) will also be hoping to impress the judges with her rap, while Dublin dance troupe Streets Ahead will perform a mash-up of songs.
Ireland's Got Talent is on TV3 on Saturday at 7.30pm