Rashford's emergence likened to Kluivert and Xavi by Red Devils boss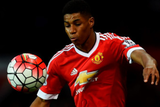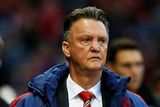 Louis van Gaal has likened Marcus Rashford's emergence to that of Xavi, Andres Iniesta, Patrick Kluivert and Thomas Muller - all of whom were given a chance to shine thanks to the Manchester United manager's "guts".
In less than two months, the 18-year-old has gone from young hopeful to Old Trafford favourite thanks to the exceptional way he has taken to life in the United first-team.
Rashford has netted seven goals in just 13 appearances and is the stand-out player among the youngsters given a chance this term.
Van Gaal was quick to highlight that youth has long been his focus and compared the United teenager to a number of famous names he has given a chance over the years.
"When I go to Ajax and then Patrick Kluivert, 18 years old, made the same performances as Marcus Rashford," he said.
"I can give a lot of examples of that, it is not new. In Bayern Munich, it was Muller. In Barcelona, Xavi was 18 years old and Iniesta 17 years old.
"(Thiago) Motta was also 18 years old, he is now playing for Paris St Germain.
"It is not strange, I think. Age is not the big issue. It is quality - it is the big issue."
A string of injuries led the likes of Rashford to get an early first-team look in, along with the likes Timothy Fosu-Mensah, Cameron Borthwick-Jackson and Guillermo Varela.
The latter duo played for Warren Joyce's side as they won the Under-21s Premier League on Monday, while Paul McGuinness, who left his post with the Under-18s in February, has also played a key role in United's young players' development.
Credit
Put to Van Gaal that such individuals deserve credit for having players like Rashford ready for the first team, he was quick to point out they are not the finished article.
"They are not ready," he said. "Also Marcus Rashford is not ready and he knows that, he can learn a lot.
"You need always guts to put youngsters in the squad and also in the line-up, but of course the academy and all the coaches of the academy, they have their credits for these players.
"Also the scouts who have discovered these boys, they have credit. And I'm a little part of it, but that part is very important because you need guts to do that."
That boldness has paid dividends with Rashford, who may well start an FA Cup semi-final for his home-town club at Wembley.
Van Gaal was not keen to talk about tomorrow's opponents Everton and their players, but believes the fact United have reached this juncture shows they have progressed.
"We are further than last year," he said. "Then we were in the quarter-finals and now we are in the semi-finals, I believe. That means that we are better than last year."
Asked about the match's importance given they are far from assured of a top-four finish, Van Gaal added: "It is not to me to judge that - I have said that already in former press conferences.
"I do my utmost best and I have said that. We are in the semi-finals of the FA Cup, we are still in the race for the fourth position in the Premier League and that was our aim."
Meanwhile, England boss Roy Hodgson has been "very impressed" by Rashford and has not ruled out taking him to Euro 2016.
"I think it would be a very bold decision to put him in and I think it would mean possibly leaving someone behind who at the moment, in my opinion, has more reason to be called up," he said.
"But you never know. The fact is it would be foolish as well to say 'no, no, he's not ready - he can't do it'. I am sure he could do it. I am sure if there was enough spaces available and if we were taking 30, we'd certainly probably be considering him."