Beleagured United boss blasts 'awful' stories as he faces into a must-win Cup clash with Derby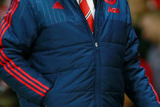 Manchester United manager Louis van Gaal insisted he has not offered to resign as he turned his fire on the media once again.
The Dutchman, who walked out of a press conference before Christmas, has been angered by reports he was talked out of quitting at Old Trafford by chairman Ed Woodward after last weekend's loss to Southampton.
The 1-0 home defeat - after which United were booed off - turned up the heat on the already under-fire Van Gaal even more.
But the 64-year-old former Holland boss claims he has no intention of walking away and is furious at how his situation is being portrayed in the press.
Asked if he had offered to quit, Van Gaal said at his latest press conference: "I think that I don't have mentioned it ever.
"I think you make your own stories and then I have to answer on your stories, and I am not doing that because it is awful and horrible that you can write that and then I have to answer the questions of your story.
Concerned
"I am very concerned people are believing what you are writing. I receive a lot of calls and SMSs, but it is this world that you can write what you want and you don't have to verify anything.
"It is now the third time already that I have been sacked, and I am still sitting here for you."
Van Gaal feels he has the backing of Woodward, and is pleased about that, but actually believes that brings more pressure than if he did not have the chairman's support.
He said: "It is fantastic, of course. That gives you a lot of pressure because when the board has such confidence in you then the pressure is much higher than when they say it is your last game, or something like that, because then the confidence is not so high, and you can fight against it. When you can fight you have bigger motivation than when they support you. I am always fighting."
Knives out
United's slow style of play has been criticised all season and poor results have now intensified the scrutiny of Van Gaal. United have won just twice in 10 Premier League games and are five points off fourth place. Another damning statistic is that they have not scored in the first half of their last 11 home games.
United now face a testing trip to Sky Bet Championship high-flyers Derby in the fourth round of the FA Cup tonight, and Van Gaal claims media knives will be out for him again.
He said: "When you lose it is more worse and I predicted already, before the game against Southampton, that I cannot lose any more because I am then condemned for the fourth time that I have been sacked. Maybe then you have written the truth, because sometimes it happens."
Asked if he was facing a must-win game at the iPro Stadium, Van Gaal said: "You have to win, because then you are out of the FA Cup."
Van Gaal is happy to turn his attention to cup matters after recent league trials.
He said: "I don't think it has anything to do with the Premier League, it is the FA Cup. We want to win the FA Cup, like every club in England. It is very popular. Everybody has the ambition. It is important and it is another title. We have to give everything for that."
Van Gaal has found an unlikely ally in tonight's opposition managerr, Derby boss Paul Clement, who insists the Dutchman remains one of the most revered managers of the modern era despite his struggles at United.
"He's one of many coaches who have spent his career at all the big clubs," he said.
"I think he's well thought of, from a coach relatively new to this. Van Gaal, (Jose) Mourinho, (Carlo) Ancelotti, (Guus) Hiddink, (Pep) Guardiola, he's part of that group.
"When you look at the big clubs - Barcelona, Bayern Munich, Real Madrid, Manchester United - there are very few people who can do those jobs, and he (Van Gaal) is absolutely on that list."
Having worked under Ancelotti at Real Madrid as assistant coach, Clement is familiar with the pressure to deliver attractive attacking football. At the Bernabeu, merely winning matches is not enough - as Rafael Benitez recently discovered to his cost - you have to do it in style.
Aggressive
Asked if Van Gaal has a responsibility to maintain the long-standing tradition of how United have played football historically, particularly in the recent past under Alex Ferguson, Clement said: "I don't know about that.
"At Real, we played Atletico Madrid in the Champions League final - they won the Spanish League and reached the European Cup final but they were physical, direct, aggressive, not a lot of football.
"It worked well for them, and I'm not sure it's about responsibility. It's the choice of the coach and maybe about the history of the club, and what the fans are used to. They chose him and he's got the right to play in a way he feels is best. That's part of the selection process.
"The man who followed Sir Alex had his difficulties, and now the next man in has had some difficulties too, but coaches need time to develop what they want to do.
"You still have to get results, although the perfect performances we are all searching for do take longer to produce."
Midfielder Michael Carrick could return for tonight's trip to Derby after four games out with a knee injury. The 34-year-old is now available again but is not ready to play 90 minutes.
United will be without full-back Matteo Darmian, who is sidelined after colliding with Southampton's Irish striker Shane Long last week.
Also experienced midfielder Bastian Schweinsteiger (knee) and defender Phil Jones (ankle) are still out. Marcos Rojo, Luke Shaw, Antonio Valencia and Ashley Young are long-term absentees.