Luiz silences snipers as Chelsea stun champions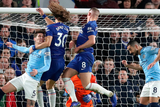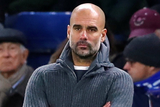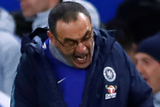 David Luiz accepts criticism is part of a defender's job and declined the chance to answer his detractors after his man-of-the-match display in Chelsea's 2-0 win over Manchester City.
Goals from N'Golo Kante and Luiz inflicted City's first loss of the season, as the Blues absorbed the visitors' pressure and pounced to claim a triumph many did not expect.
Luiz's performance in the loss to Tottenham was scrutinised, but the Brazil defender insisted it did not affect him.
Luiz, 31, said: "I know what it means to play for a big club. At big clubs it's like that: if you win, everything is good. If you lose, it's your fault, especially defenders and goalkeepers.
"Strikers never lose games -we have to be honest and say that.
"We have to accept that in the right way, in an intelligent way.
"It was good to play against a fantastic team, keep the clean sheet and have a great game."
The Blues' success was overshadowed by allegations of racist abuse by home supporters towards City forward Raheem Sterling. Chelsea and the Metropolitan Police are investigating the matter.
Chelsea had lost to Spurs and Wolves, either side of victory over Fulham, before ending City's 21-match unbeaten sequence in the league.
The result was due to the preparation of Chelsea boss Maurizio Sarri, claimed Luiz.
"It's never easy to play against City," Luiz added.
"They are synchronised, they have three years together, so they know what they have to do.
"It was a bad result against Wolves. We're happy because we did great against the best team in the league. I think it can give us a lot of confidence."
Sarri revealed he has been happy with Luiz since his arrival.
The Blues boss added: "There are matches in which it's really very difficult to stay in the defensive line, like Tottenham, because the defensive phase of the team is a disaster.
"Against City he played a great match, but all the team helped him to play really well."
Kante, with two goals, has already surpassed his best goals total for a Premier League season.
Since Jorginho's arrival as Sarri's central midfield playmaker, Kante has been deployed further forwards on the right side of midfield.
The World Cup winner's position has been the subject of scrutiny, but he hopes to contribute more goals.
France star Kante said: "I just try to score as many goals as I can. I have many opportunities in this position and I try to score when I can. It can help the team."
Manchester City defender John Stones echoed his Etihad manager Pep Guardiola in praising the performance while ruing the loss which sees them one point behind Liverpool at the summit of the Premier League table.
Stones said: "To come here and play how we did, despite the scoreline, is never easy,.
"We were top of the league coming into the game and everyone wants that spot.
''Now we have something to look back on and we will take everything out of it.
"It is never easy to digest it after the game, but it is the harsh reality of the league.
''To be where we are - we should be proud. The best way to get over this defeat is by winning the next game."