Luis Suarez in fresh bite controversy?
Luis Suarez dips his head towards Martin Demichelis's hand during Man City's 2-1 defeat to Barcelona, sparking question on social media - has he bitten someone again?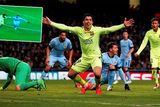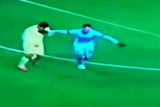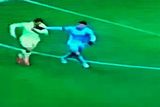 Luis Suarez earned the plaudits and dominated the headlines after his two-goal display for Barcelona against Manchester City on Tuesday night, with papers exclaiming 'Suarez sinks his teeth into City' and 'Chew-One'.
Little would we know how apposite such puns were. The Barcelona forward has potentially found himself in yet another bite row after a series of posts on Twitter suggesting he had 'nibbled' on Martin Demichelis.
With 90 minutes on the clock, the former Liverpool star runs towards Demichelis and, as the City defender raises his arm to fend off the Uruguayan, Suarez appears to move his head down towards it.
A City statement said: "The incident was not discussed by Demichelis or anyone else at City after the game, indicating the defender had no sense of grievance."
Read More:
Suarez's history of biting is well documented. In November 2010, while playing for Ajax, he chomped down on Otman Bakkal's shoulder.
Then, in 2013, having joined Liverpool for £22m, he bit Chelsea defender Branislav Ivanovic.
But he saved the most infamous for last after sinking his teeth into Italy's Giorgio Chiellini in Uruguay's final World Cup group game. The third bite earned him a nine-game ban from world football.