'Louis van Gaal's top player's don't look too happy'
Veteran Preston striker Kevin Davies lashes United's style of play and mood in the camp ahead of FA Cup clash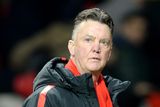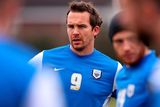 VETERAN Preston forward Kevin Davies has cranked up the pressure on Louis van Gaal and claimed the Manchester United's top stars look down in the mouth.
Winding up the mind games before Monday's FA Cup 5th round tie at Deepdale, Davies added his voice to Sam Allardyce's 'long ball' lecture and suggested that all is not well at Old Trafford.
"Just looking at one or two of the players, like Van Persie scoring, no real smile, he didn't look particularly happy. Wayne Rooney playing a bit deeper. It's probably different to what those players are used to.
"Players don't particularly like change anyway but a new manager comes in, new ways, are they enjoying it as much as they used to? I don't get that impression from the players," said Davies.
"Obviously they're pleased to be back in amongst the Champions League but there have been a few boos about the long balls and the style of play has not been great.
"They've spent money and they should be contesting those Champions League spots.
"In terms of watching them, I don't think they're as exciting as they used to be but, when you lose someone like Sir Alex Ferguson, it's always going to take time."