Long road back for Saint Shane
Stricken Irish international at decisive juncture in career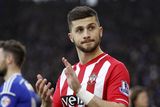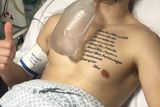 ALMOST a year after Shane Long surprised many with a move to Southampton from Hull, he lies in a hospital bed with a punctured lung and broken ribs.
He's out for at least six weeks and even at this far remove, he's a doubt for Ireland's absolutely pivotal home Euro 2016 clash with Poland at the Aviva on March 29.
At least O'Neill's concerns about James McCarthy eased a great deal with Roberto Martinez's latest bulletin on his fitness and an assessment that he is ready to play
By now, Long will have had a flood of texts, tweets and good will messages urging a speedy recovery and no doubt, in amongst them all was a line or two from O'Neill and Roy Keane.
Many moons ago when Keane ruptured his cruciate and was benched for over six months, his rehab brought him to dark places in his own head but he emerged from the experience with an even greater resolve to make the very best he could of whatever years he had left at the top.
Long will have time on his hands then, maybe not as much as Keane but a chance to consider the span he has left as a top professional footballer. If he's unlucky with the injury, it will be late March before he'll be ready to play again.
He turned 28 last week and should be in the prime of his career. Gone is the fresh-faced and cheerful young lad who first emerged at Reading and in his place is a sometimes surly and definitely less open individual. His goal celebrations, rare enough this season, belong to someone with a better strike rate and it is hard to avoid the feeling, as he runs towards the crowd with arms stretched wide, that he is looking for the kind of adulation he hasn't quite earned.
Maybe in the moment he deserves it but it doesn't take a professional statistician to tell you that Long has always teetered on the brink of something more than he has become and has yet to produce a sustained run of form which marks him as more than a Premier League squad player - good for Cups and plugging gaps.
On the face of it, his quick step transfers from West Brom to Hull and then on again to Southampton bore all the hallmarks of a footballer looking after the finances.
No doubt he would argue that in football, fate can blow a player up on any shore at any time and perhaps he would be right if he was Angel di Maria, an expensive gun for hire with a track record of success who can bounce from one big club to the next and pocket medals as well as a humongous salary along the way. But Long is swimming in a different pond or at least so it seemed when Ronald Koeman's deadline rush to find a striker presented him with a second transfer decision just eight months after his January bounce from West Brom to Hull.
Perhaps it was no surprise to Long that Koeman had big plans for Southampton but nobody else gave them a chance of being anything other than relegation obsessed this season after almost all the players who did so well under Mauricio Pochettino were scattered across the Premier League wearing different shirts.
CLIMB
So far, Long's contribution to Southampton's remarkable climb up the table and even more impressive determination to stay there has been fitful at best.
The same pattern which he displayed at all his other clubs has emerged at St Mary's. No lack of effort but never enough goals. His pace and physical presence makes him the ideal impact substitute and that's the way Koeman seems to view him.
The great pity is that Long's recent form appeared to have convinced the Dutchman that he might be a better option as a starter.
A stunning FA Cup replay winner against Ipswich didn't quite get him in the team for the following Premier League win over Newcastle but he came on after an hour and helped set up the winner in that game. He must have been in a confident mood lining out against Crystal Palace.
Just 14 minutes later, an awkward collision with Joel Ward and his season ground to a halt. A punctured lung will heal quickly enough but cracked ribs will mean a greatly restricted fitness programme and no contact training for a number of weeks.
Plenty of opportunity then, to sit back and ponder the road ahead and if he's smart, realise that fate his handed him an amazing opportunity which he must try to grab with both hands because it won't hang around.
If his injuries heal quickly, Long will be in Martin O'Neill's thoughts as Ireland's main striker against Poland as he was against Scotland.
After that, Southampton will have a half dozen big, big Premier League games left and a huge prize, Champions League football, is still looming large on the horizon.
All of this is at Long's feet and comes about despite a career strike-rate which is, at best, average and while O'Neill has a very restricted list of options up front, Koeman can go to the market in the summer if Southampton do make it to into the Champions League draw.
He'll need a striker with more than a handful of goals a season in his locker.