Loew has warning for hosts as Germans try to avoid unwanted hat-trick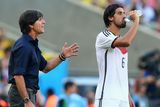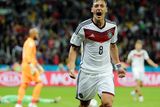 GERMANY coach Joachim Loew has warned hosts Brazil that his side will mean business when the teams meet in the World Cup semi-final, proclaiming: "We're not done yet."
The Germans will be bidding to reach their first World Cup final since 2002 - when they were beaten by Brazil - in Belo Horizonte tonight.
At the same time, they will be hoping to avoid a hat-trick of consecutive semi-final disappointments by taking the penultimate step towards their first major title since Euro '96.
"We've been in at least the semi-finals of the last four World Cups and that just shows that we've been playing consistently at the very highest level," Loew said.
"This is a highlight now; it's something special and amazing.
"I'm looking forward to it so much, and everybody in the squad is too.
"I think all Germans are also, and one thing's for sure - we desperately want to play in the Maracana in Rio again. On July 13. We're not done yet."
One of the pre-tournament favourites, Germany have lived up to their billing and - apart from a few hairy moments against Algeria - have rarely looked in any danger.
Test
Their biggest test is about to come, though.
"We all know how strong Brazil are," Loew said. "They were the big favourites right from the start and the players have mostly coped with this role outstandingly.
"They underlined at the Confederations Cup last year that the expectation levels lift them further and the pressure doesn't numb them.
"What they've done is good for the whole tournament; it's good when the hosts go so far, but we're self-confident and we've gelled more as the tournament has progressed.
"We'll devise a good plan and give Brazil a real fight.
"The chances are even and it's going to come down to something really minor, who reaches the final."
Brazil's hopes suffered a setback with the loss of Neymar through injury and Thiago Silva to suspension.
Loew regrets the fact that they will not be playing, even though their presence may have made life a little harder for his team.
"You always want to see the best players in action at a World Cup, and the players always want to measure themselves up to the very best," Low said.
"It's a pity that Brazil have to play without two of their best, but they will be able to cover for them.
"I'm incredibly sorry for Neymar. He's an amazing footballer and it's really bitter and hugely unfortunate that he's going to miss out - for him, for his team and for the whole nation.
"I hope he recovers and is playing again as quickly as possible and that he can deal with this setback positively."
Low has no such selection problems with only Shkodran Mustafi unavailable, yet he still does not seem to have found his first-choice starting XI.
Philipp Lahm moved back to right-back in the quarter-final against France with Miroslav Klose making his first start up front, where Thomas Mueller had previously been first choice.
struggled
Mesut Ozil has struggled to deliver while Lukas Podolski no longer seems to figure in Loew's plans. "Sometimes I just have to follow my intuition," Loew said. "Of course, I talk to the players too, and my coaching team.
"But, you know what? In the end, I make the decisions."