Liam Neeson: 'I'm not happy with the way Steven Gerrard was taken from Liverpool'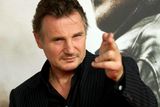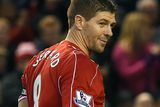 Liam Neeson is a formidable man and it seems he is not best pleased about Steven Gerrard being 'taken' out of the Liverpool squad.
The Hollywood star, who is an avid fan of the club and has been known to make appearances at Anfield, has asked bosses to consider keeping Stevie G on the roster.
"Give him two years," the Irish actor advised.
"He's a great player. He's an ambassador for the sport as well there which is very, very important," he said of the captain.
Neeson believes that the fans want to see the shock move
reversed.
"He'd be great for Liverpool, I think all the fans want to see him there for an extra two years. Do it," he encouraged Brendan Rodgers and co.
Despite the action star's pleas, Gerrard's departure looks to be cemented.
He is to join LA Galaxy, joining Ireland's Robbie Keane, this summer.
trophies
A joint statement from Gerrard and the club stated: "I am committed to helping the LA Galaxy compete for trophies and to having an impact in Los Angeles and I will give my all for the club. In the meantime, I will continue to give everything for Liverpool."
Neeson's plea comes as Gerrard admitted he would have signed a new deal for the club if it had been on the table.
The 34-year-old has been with the reds since he was a teenager and pledged never to line out against the club despite hanging up his jersey at the end of this season.
Gerrard is not the only sporting legend that Neeson has heaped praise on.
The 62-year-old actor admitted that meeting boxer Muhammad Ali left him starstruck.
"My knees literally went weak," he confessed. "He signed a ratty piece of paper that I had, for my father. I was in awe."
hnews@herald.ie