Lewis Hamilton among mourners as F1 world says goodbye to Jules Bianchi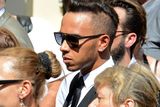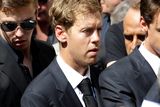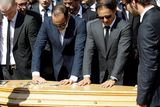 Formula One world champion Lewis Hamilton was among the mourners to gather at Sainte Reparate Cathedral in Nice for Jules Bianchi's funeral on Tuesday.
Bianchi died on Friday night following the devastating brain injuries he sustained in a crash at the Japanese Grand Prix on October 5.
The 25-year-old, who had been tipped to be a future world champion, never regained conciousness after he hit a recovery vehicle head-on at the rain-lashed race in Suzuka.
He was the first F1 driver to die as a result of injuries sustained at a grand prix weekend since Ayrton Senna. The three-time world champion was killed at the San Marino Grand Prix on May 1, 1994.
Hamilton, who posted an emotive tribute on his social media accounts to Bianchi on Monday evening, joined a number of his peers to pay their respects to Bianchi ahead of this weekend's Hungarian Grand Prix.
Accompanying a picture with his newly-born niece, Hamilton wrote: "I've just got to meet my beautiful new niece Willow. She was born only hours after Jules passed away. I feel like God needed an angel & chose Jules, at the same time born a new angel to be one day.
"I pray that she gets to see the wonders of the world, as an uncle I will try to protect her from the bad & help guide her through the good."
Bianchi's compatriot Romain Grosjean, a close friend of the former Marussia driver, greeted Felipe Massa, Nico Hulkenberg and Daniil Kvyat, as they arrived for the service on Tuesday.
Jenson Button, Sebastian Vettel, Nico Rosberg and four-times champion Alain Prost were also in attendance.
Pallbearers carried Bianchi's coffin into the Nice cathedral shortly after 9.00am (BST) while his race helmet was also taken into the service. Two large portraits of the Frenchman hung outside the cathedral.
It was announced on Monday that the FIA would permanently retire the number 17 that Bianchi used. It is also expected that the grid will observe a one-minute silence ahead of Sunday's race at the Hungaroring.