Landlord held woman down in row over rent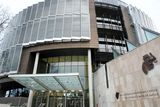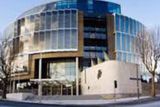 A LANDLORD who pushed a tenant to the floor of her home and pinned her down while tradesmen were taking her front door off its hinges, has been fined €1,000.
Daniel Sacco (35) assaulted the mother-of-three while attempting to evict her in a dispute over rent arrears on the house where she was living with her husband and children.
Sacco, with an address at St Paul's Street, Smithfield pleaded not guilty to assaulting Taiwo Adejinmi at Cherryfield View, Hartstown on October 8, 2013.
Finding him guilty, Judge Ann Ryan said what he did was an unacceptable over-reaction to the situation.
Ms Adejinmi told the court she was at home with her youngest child when the accused arrived, looking for her husband.
"He pushed me down on the floor and I fell. He called two of his guys to come and take off the front door," she said.
"He didn't let go of me until the front door was removed and put in the back of the van."
Her husband had signed a tenancy agreement, rent had not been paid and they were previously given notice to leave, Defence Solicitor Declan Fahy said.
Two hours after the incident, Ms Adejinmi sent the accused a text saying she had asked the Private Residential Tenancies Board to take up her case.
Ms Adejimni told the court she did not mention the assault in the text because at the time she was more concerned about her family's security.
A neighbour told the court he saw the accused push the victim back.
Sacco said Ms Adejinmi told him her husband could not be contacted and he replied that he had given notice on a couple of occasions.
She refused to leave and he asked one of the men to remove the door. He had the notice in his hand and she started to yell, he said.
He denied pushing her to the ground or pinning her down. He accepted that he had been wrong in law to take the door.