Lady in red Alex Butler is first past the post when it comes to style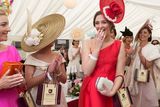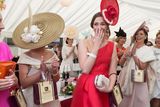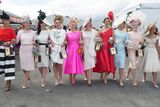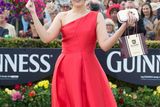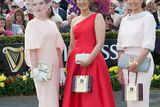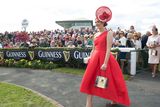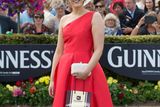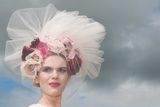 A lady in red from the Rebel County took away the coveted title of Best Dressed Lady at the Galway Races.
Hundreds of women flocked to Ballybrit in their finery in the hopes of being crowned best dressed, but Cork native, Alex Butler, wowed the judges in a stunning one-shoulder red dress by Teria Yabar and a headpiece by acclaimed milliner Jennifer Wrynne.
She accessorised her look with a pair of nude Christian Louboutins - a present from a very thoughtful boyfriend - and a pearl clutch.
The 23-year-old won a spectacular prize worth €10,000, including a shopping spree at Kilkenny, luxurious hotel breaks and a Waterford Crystal trophy.
"I am absolutely delighted. I really wasn't expecting it. I am really honoured to have won. This is my sixth year coming to Galway. Two years ago I was actually picked for the Best Hat," Alex told the Herald.
"In April, I was picked as a finalist in Mallow. This is my third time being picked, so I am delighted to win."
It wasn't surprising that Jennifer Wrynne's creation was a part of the winning outfit as over 150 ladies were wearing her designs for the glamorous social occasion.
"I've been flat out - I've got a rash on my neck from the stress," she said. "It's been a mad couple of weeks, it's kind of like Christmas for us.
"It's been 12 to 18-hour days but I have a few girls helping me, so we got it all done.
"It's surreal to be spotting my creations all around the place, but it's brilliant," she added.
Judging the competition were RTE's Maura Derrane, Irish Independent executive editor Bairbre Power, Image Magazine editor-in-chief Melanie Morris and owner of Catwalk Model Agency, Mandy Maher.
Maura opted for a classic fuchsia Fee G dress from Kilkenny, paired with a colourful headpiece by Martha Lynn and jewellery by Irish designer Chupi.
The mum-of-one is enjoying her summer off from the Today Show and spending time with her 14-month-old son Cal.
Maura is adamant, however, that baby number two is not on the cards.
"There'll be no more kids. Work is so much easier than being a mother," she said.
"It would be nice to have a sister or brother for him, but loads of people have one child. He's enough for me and more."
Elsewhere, Maura's co-host Daithi O Se left his wife Rita at home to have a boys' day out.
"I'm here with one of the lads so we'll have a few pints and a bit of craic - it's ironic enough that we're having a boys' day out on Ladies' Day," he said.
"The lovely wife is at home. She couldn't be here, she's family coming up from Clare - but I'll be home early."
The countdown is on to this year's Rose of Tralee festival and Daithi says Maria Walsh's successor will have a tough act to follow.
ambassador
"Whoever takes over from Maria has big stilettos to fill that's for sure," he said.
"She's been an incredible ambassador and to be honest her being very good looking and gay was the hook and then people got to know who she was. The gay thing went away after a while and it's no big deal.
"The fact that it came out afterwards meant she won on her own merit and for who she was.
"People often say the Rose of Tralee is out of date but Maria was very modern and it shut up a lot of those people which I was very happy about," he added.
Other well-known faces spotted enjoying the atmosphere were model Roz Purcell, model agent Celia Homan-Lee and former hurler Henry Shefflin.
SEE SPORT