Kodaline star Steve Garrigan prefers Big Macs to A-list parties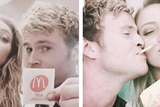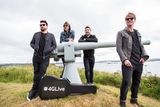 You know it's love when your fella turns down hanging out with music stars to take you for a burger.
Kodaline front-man Steve Garrigan and his girlfriend Diana Bunici snubbed an A-list party after an LA gig and instead went for a burger at McDonald's.
"Instead of going to the after-party with Nicole Scherzinger, we went to McDonald's for the craic," Steve told the Herald.
"I don't mind the long distance - I mean we could be playing a show anywhere in the world and I could just fly her over."
Kodaline performed a gig for 100 people on Spike Island in Cork yesterday but fans all over the world could get in on the action via Periscope, all thanks to Vodafone's 4G network.