Keane: 'Nothing to fear on road to Russia'
Lack of a major nation gives Roy high hopes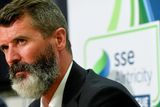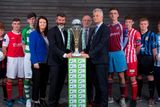 The fact that Roy Keane identifies Wales - who last qualified for a major finals all the way back in 1958 - as a benchmark for where the current Ireland side need to be is an indication, if one was needed, for how low our stock has fallen on this side of the Irish Sea.
But while qualification for Euro 2016 is still on the table - just about - for the current squad under Martin O'Neill, Keane's thoughts have already turned to the future and the road to Russia in 2018.
Saturday's draw for the World Cup finals in Russia, which was attended by Martin O'Neill, threw up a tasty-enough draw from an Irish point of view with a clear absence of the big names.
"Nothing to fear" was the message from Keane in terms of the World Cup draw as he visited FAI HQ in Dublin yesterday to help launch the new U17 national league, which kicks off next month.
Even the existence of the new U17 league shines a spotlight on one of the major problems in the Irish game which has contributed to our low standing of 52nd in the world, as LOI clubs like the recent European entrants Shamrock Rovers, St Pats, Cork City and UCD will field teams.
But the big Dublin schoolboy clubs, the nurseries for future international players, will not (for now anyway) take part with only a minimal link-up between schoolboy outfits (UCD/St Joseph's Boys, Bohemians/NDSL and Dundalk/Malahide United), and that disconnect, and distrust, between the strands of the Irish game is a contributing factor to our woes, which leads Keane to identify Wales as someone to admire.
"People make the point that Wales are the top seeds and where they are at the moment, they look like they will qualify [for Euro 2016] and that will give them a lot of confidence," Keane said. "They have one or two players, the Bales, the Ramseys playing regularly in Champions League football and that's what we need to get back to."
Whether O'Neill and Keane will be in charge for the trip or not, Keane does see a possible road to Russia for Ireland. "I don't think the teams in our group will be quaking in their boots playing us, but they are games to look forward to," he said.
"It's a very tough road ahead. But having said that, there's no Germany in our group. I've never gone into a game in my life thinking we're up against it. A lot of teams in the group could take points off each other. You will be hard puzzled to say who is really the favourites - but, as I say, there's no Germany.
"While I know it's hard going, we're not in a position to be fearful of anyone. We just try and get that balance right. We don't think it will be easy but if we played Wales or Austria tomorrow, I wouldn't be dreading it. So don't be fearful of anyone." But despite the relative ease of the draw that may not be enough to make him stay on. "We will know in the next month or two but I would never be swayed by a couple of results or the group draw," he says.
"By committing a contract you are saying 'we can go places, we can improve, we can learn from our mistakes and get to know the players better'. I don't think I would be swayed to committing to a new contract by the group draw."
Irish fans can only hope that this team can indeed 'learn and go places'.