Jim White: David Beckham has it all .. but to his son, he's nothing but an embarrassment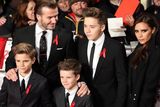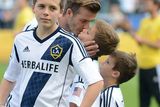 Brooklyn Beckham apparently winces every time his old man takes him to school.
So embarrassed is he by David's habit of leaning out of the car window and loudly declaring his love for the lad, that he has instructed his father to drop him off round the corner, where no one can witness the regular morning humiliation of being associated with such a                            loser.
This little insight reveals the singular truth of parenthood: it doesn't matter who you are, your teenage children will find you ridiculous. This, after all, is David Beckham, the object of a million female (and almost as many male) fantasies.
This is also a man who clearly dotes on his offspring. If the coolest father on the planet is deemed an embarrassment by his children, what hope for the rest of us?
stigma
I can clearly remember the moment when I realised that – like Beckham – I had become an intolerable social stigma for my children.
With much shallower reserves of cool to fall back on, it happened earlier for me, at my daughter's 12th birthday party. She had a dozen friends round and I suggested I would organise a disco. I said I would man the decks (again, my terminology did not go down well).
It was as the dancing began, however, that I realised my lively, gregarious girl wasn't joining in. Rather, she was curled up in a ball in the corner.
The problem, I was later informed, was my movement.
Appreciating that your father dancing is not the first thing most 12-year-old girls would wish to happen at their birthday party, I restricted myself to the occasional nod of the head.
But even this was enough to reduce my then 12-year-old to a puddle of self-consciousness.
I beat a shamed retreat. It was as I shut the door behind me and heard a guffaw rising from the assembled company that I appreciated quite how badly I had misjudged my connection with the youth.
For my sons, it was even worse. They had the weekly trial of having me on the touchline.
At least when Brooklyn Beckham's dad stands there during a match and makes a comment about tactics or the referee's competency, the lad's team mates might recognise that his father probably knows what he is talking about.
There was never that reassurance for my boys. My vocal interventions clearly had the same effect on the boys as my movement had on their sister.
Though, actually, it was something that happened on the way back from a match that is most indelibly etched on my sons' psyches.
Driving past a group of kids, one of them threw a stone at the car. I stopped immediately and leant out of the window to confront the culprit.
Apparently my words were enough to have the boys in the back quivering in shame.
humiliation
Though my memory is of a manly verbal dusting down, they recall me saying, before winding up my window and beating a hasty retreat: "You better… you better, erm, watch it… or… or… else."
An intervention, apparently, which placed them in an intolerable position of embarrassment and humiliation.
Still, they have had their revenge.
My daughter is these days a regular on the comedy circuit.
One of the characters in her show is a motivational speaker who blames her upbringing "in a happy, secure home by a mother and father who loved me" for her failures in life.
I assumed when I saw it that she was giving an ironic gloss on the self-improvement industry.
But now, having heard Brooklyn Beckham's heartfelt lament about his dad's kindliness, somehow I'm not so sure.