Jason Byrne has big ambitions for Bohs
Veteran striker sets big goals for 2015 season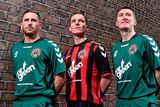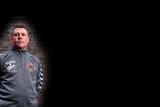 A FEW games of five-a-side over the festive season with his first cousin Robbie Keane helped to keep veteran striker Jason Byrne in shape ahead of the new season.
And the former Ireland international, who will have turned 37 by the time the 2015 season kicks off in March, says he still has the same passion and desire to play and score goals as he had when he was blooded in the league 17 seasons ago.
Byrne has signed up for another year of LOI football as part of Keith Long's squad for 2015. Byrne knows that he won't be able to feature every week next term and will abide with manager Long's decisions to pick and choose games suitable for the old stager.
He jokes that the first day of pre-season with the Gypsies was "the hardest introduction I've had in 17 years" but he did have a pre-season of his own with some stellar company, as Robbie Keane used his Christmas break in Dublin to have regular kick-abouts with pals like his cousin Jason.
"We were playing a little bit, Robbie and his brother and a few mates, just to tick over, keep the heart rate up, get a bit of a sweat on and keep the weight off. It was enjoyable and good to get the Christmas turkey and Christmas drink out of you," laughs Byrne.
"Obviously it was good to see the quality of him, his little touches. It was fantastic to get the chance to knock around with him. It was rolling back the years to when we were kids playing on the streets. Last time I probably played with him was with the Ireland team," added Byrne, who won his second and last senior cap alongside Keane against Chile in 2006.
His club have goals for next season. "The fans are used to success at the club. We can't be afraid of that. We have got to embrace that challenge and we have got to do our very best in every game," says manager Keith Long.
MENTALITY
And Byrne has personal goals as well, the forward 19 strikes away from the all-time scoring record of 235 goals held by Brendan Bradley.
That is a factor for Byrne in agreeing to another season of football but the former Bray, Shelbourne, Dundalk and Cardiff City man admits he would miss the game.
"It's the same mentality as when I was 18 or 19, the cameraderie and the enjoyment, you can't run around like a mad man like you did years ago, you have to look after yourself, but when the mentality is gone I don't know how I will replace it," Byrne admits.
"It's the same as when I walked into that dressing room at Bray 17 years ago, it's the same buzz, the same mentality and I just love it, I don't know how I will replace it when I do retire.
"It's getting up and going to training, the banter and the craic and I don't know how I will replace that, but the mentality is still there."
No longer a full-time pro, Byrne says he regrets not using his free time during his years as a full-time footballer more wisely. His day job right now, he jokes, is "daddy day care" for his sons, aged eight and three as his wife works full time, though his eldest (Callum) is already showing signs of the family skills in the Cherry Orchard U9s. "He knows where the goals is," jokes Byrne.
BUt the veteran is serious about his attempt to bridge that historic gap and beat the magic tally of 235 goals to make him the all-time top scorer in League of Ireland history.
"It's there and I'm still playing," he says of Bradley's record.
"When I stop playing the record's not there. As long as I'm still playing the record is going to be there.
"I know it's an old cliché but I'll take each game as it comes and play each game as if it's my last because it could be my last. This year I'm going to go out with a much clearer mind. "That's not just down to the record, it's other stuff for myself that's happened in the last year. I think this is going to be a big season," says Byrne. who admitted that he was trying too hard to score last season so he could beat Bradley
"I think the record was on my mind a bit because I was more anxious to score goals. I was a bit uptight and getting frustrated when I missed chances that I shouldn't be, whereas years ago I didn't care if I'd miss chances, the next chance will come along and I'll put that away. I am 19 goals off. It sounds close but I don't know. I got eight or nine goals last year, if I get another 10 this year I'm sure I'll be beating myself up to go for another season, but we'll weigh that up," added Byrne.
And manager Long has his own goals. "I don't want to talk loosely about ambitions for the season because it will come back to haunt me," he says. "I think we've got a group of players that are keen and hungry for success. All I can say is we will be competitive in every game and organised. We want to give our supporters something to shout about."