James McCarthy: 'I've watched defeat to Donegal a few times'
McCarthy rewinds Donegal DVD 'to make up my own mind where we went wrong'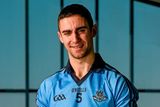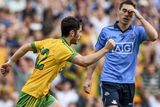 SOME players studiously avoid horror movies - or, rather, their GAA equivalent, the DVD of your most traumatic defeat. James McCarthy is not one of them: he has already relived the grisliness or last year's All-Ireland semi-final between Dublin and Donegal.
He doesn't particularly enjoy the process of poring over painful history but views it as a necessary evil. "I have watched it once or twice, trying to make up my own mind as to where we went wrong. I have a few ideas. You learn a lot from defeat," McCarthy reflects.
"I'd like not to watch it but … it is tough, it is hard. It was a devastating loss. You have to face it, try and pick up a few things from it. It's not easy but you have to do it."
Cue the inevitable follow-on question: what has been learned from a defeat that few people beyond Jim McGuinness's inner Ballybofey circle had seen coming?
GUNG-HO
Dublin's jet-heeled No 5 endured his toughest 70 minutes of last summer against Donegal and yet had enough credit in the bank to claim his maiden All Star. Over five months on from the event, he concedes the need for a slightly less gung-ho approach in 2015 and yet cautions against any tactical over-reaction that could take away from Dublin's greatest strength, their prowess on the front foot.
"It's not the end of the world. We don't need to reinvent the wheel. There's a few things we need to tweak," he surmises.
"We have a way of playing, we have a philosophy, and we're not going to overly change it. We've won five out of six competitions so we're doing all right. We had one bad day in a big game."
McCarthy doesn't buy the theory that Dublin's 2014 downfall can be simply ascribed to the impossibility of going back-to-back.
"Even the two All-Irelands that we won, we won by a point," he reminds. "People think they're easy - I'll tell you what, there's a lot of work goes in to try and win an All-Ireland, no more so than back-to-back.
"I think we were better prepared last year maybe than 2012. We had the experience of 2012 - the party probably went on a bit too long in 2012."
Whereas last season, "we were screwed right in. We thought we were unbelievably prepared, just on the day Donegal beat us. Hands up, no complaints."
The tactical alignment of Dublin's half-back division, especially during the second half as they were sucked upfield, leaving acres of space for Donegal's deep-lying runners to penetrate, was heavily criticised amid the inevitable post-mortems.
McCarthy is asked if he expects a more reserved half-back line this season and partly agrees.
Maybe there won't be "as much" bombing forward but "when it's on, we'll still go for it. We conceded three goals in the semi-final so maybe we were a bit open," he accepts.
Tomorrow night offers an ideal opportunity for some early-season redemption, as Donegal under new management return to the Croke Park scene of last August's ambush. Except, of course, that McCarthy won't be partaking in this Allianz League Division One rematch: he is still "three or four weeks" away from a playing comeback following Gilmore's groin surgery before Christmas.
WEIRD
From a distance, he has seen his Ballymun Kickhams clubmates - Dean Rock and John Small - lay down an early-season marker. Last Sunday's trip to Cork was Rock's first league start ("which is weird ... it seems like he has been around for years") while Small ("a great young fella, strong, a good player") will have long-term designs on a half-back position.
That's the problem when you're immersed in rehab: the fear of someone taking your place and holding on. "Of course you would (worry)," says McCarthy. "The competition is great."
The Rory Gallagher era has already kicked off with a convincing win over Derry whereas a Dublin team minus perhaps two-thirds of last year's championship line-up must bounce back from their day-one defeat on Leeside.
"A great game to get" is McCarthy's summation of tomorrow's 7pm shindig. "And it's a game we're going to be trying to win because if you lose your first two league games, you put yourself under pressure then in terms of fighting off relegation."
Then he clarifies: "It wouldn't be the end of the world either - it's still only a league game in February."
WALLOW
All of which brings us back to last August. McCarthy cannot decide which was worse - Mayo 2012 or Donegal 2014 - but he knows that, as a player, you can't wallow in the moment forever.
Maybe it helps that he's the son of a Sky Blue legend, John, who himself experienced those twin imposters - triumph and disaster - during the storied 1970s. Then again, as he approaches his 25th birthday, McCarthy Jnr has seen it all too.
"It's not the end of the world. Nobody died. It takes a few weeks to get over and then you get back with the club," he explains.
"I take it very bad myself. For two weeks I'd be in the doldrums. It's very hard to shake yourself out of it.
"But the beauty of the GAA is that there is always a game coming. You just get back stuck into it. In 2012, we won the county (title) that year, buried the head into that. You don't want to be dwelling on that too much."