'I've never seen anything go up so fast' - Irishman in Dubai hotel inferno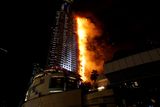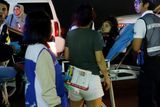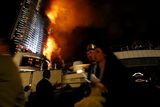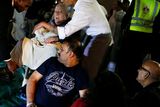 Laura Larkin and Noah Browning
An Irishman has told of his terror as he fled from a blazing hotel which went up in flames just before a New Year's Eve fireworks display in Dubai.
Kenneth Flynn, from Killarney, Co Kerry, was enjoying a drink in the luxurious skyscraper Address Hotel in Dubai with his partner when she noticed something falling from the building.
Alarm
Mr Flynn, who lives in the United Arab Emirates, said he heard no fire alarm in the hotel despite the raging blaze.
He said he was "terrified" as events unfolded.
There was a "people crushing each other" in a panicked bid to escape the inferno as the blaze took hold.
"When we walked out, the whole building was just ablaze. It was unbelievable. The heat was so intense," Mr Flynn said.
"I could see the firefighters on the building and they basically did the best job they could under the circumstances.
"There was debris actually spreading everywhere from it.
"I've never seen anything going up so fast," he told Sky News.
Despite the massive fire that engulfed the 63-storey skyscraper in downtown Dubai there appeared to be limited injuries, with some reports varying from 14 hurt to 60 suffering minor injuries from smoke inhalation and the rush to exit the hotel.
Large tongues of flame shooting skywards enveloped the luxury hotel and residential block, which lies across a plaza from the world's tallest building, the Burj Khalifa, where people were gathering for a spectacular fireworks display due to mark the start of 2016.
The display later went ahead as planned.
The Dubai government's media office tweeted that civil defence teams were working to evacuate the 300-metre hotel and tackle the fire.
It said the blaze had started on the 20th floor, on the outside of the tower, and that internal fire-fighting systems were operating to try to prevent it getting inside the hotel.
Four fire brigade teams attended the site.
Spectacular
Dubai is a trade, tourism and investment hub for the Gulf region, and is one of seven emirates that make up the United Arab Emirates (UAE).
Every year, Dubai stages one of the world's most spectacular fireworks displays from the 160-storey Burj, which opened in 2010 and stands almost 830 metres (2,722 feet) tall.